8 Traits of a Mature Disciple
Discipleship is a lifelong journey. When we hear Jesus' Great Commission to "go and make disciples of all nations, baptizing them in the name of the Father and of the Son and of the Holy Spirit" (Matt. 28:19), we can be tempted to think Jesus is only talking about evangelism. But Jesus doesn't stop there; he continues, "and teaching them to obey everything I have commanded you" (v. 20).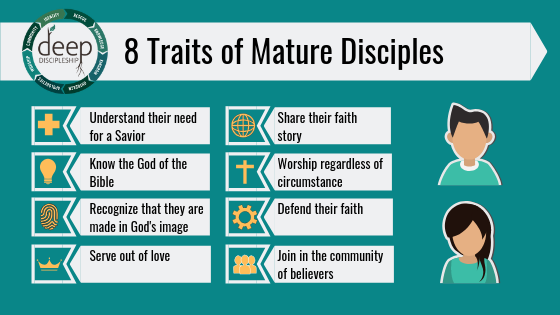 Not only are we called to introduce students to Jesus—we're also told to grow them toward a mature faith.
Over and over, New Testament writers stress the difference between immature and mature disciples. Paul tells the Ephesians that Christ equips his people to grow from infancy to spiritual maturity (Eph. 4:11–14). He laments that he cannot yet walk the Corinthians toward deeper elements of faith because they're only ready for "milk to drink, not solid food" (1 Cor. 3:2). Peter encourages his readers to "grow in the grace and knowledge of our Lord and Savior Jesus Christ" (2 Pet. 3:18).
For ourselves and for those under our spiritual care, we cannot settle for undeveloped faith. We need to encourage students when we see signs of maturity, and we should develop those areas where their faith remains immature.
But what does a mature disciple look like?
Here are a few traces of depth displayed by mature disciples:
8 Traits of Mature Disciples
1. Mature disciples understand their need for a Savior
Mature disciples know God's core plan for salvation. They have internalized that they are slaves, held captive by terrible enemies: sin and death, and  they see that in this fallen, corrupt, and shattered world, they need a rescuer—Jesus, our savior and redeemer. Mature disciples acknowledge that Jesus gave his followers freedom from sin and its effects when he took them on at the cross.
Warning Sign! When disciples lack depth in this area, they show signs of having a works-based faith or acting entitled. 
2. Mature disciples know the God of the Bible
Mature disciples know the God that they serve. They recognize that he is too awesome and too complicated to wrap their minds around, but they see that God wants a relationship with them. Taking note of the ways God has revealed himself, mature disciples are continuing learning what God is like. They view the Bible as the story of God's relationship with his people over the centuries, and they see his fingerprints throughout the world around them.
Warning Sign! When disciples lack depth in this area, they tend to acknowledge more than one God or lack a value for God's Word. 
3. Mature disciples recognize that they are made in God's image
Mature disciples choose their God-given identity over who culture says they should be. Before they determine who they are, they focus on whose they are. They affirm that God created human beings in his own image, and they rejoice that Christ came and died on the cross to offer them a new and redeemed identity. Mature disciples also find in their God-given identity a God-given mission. As image bearers of the one true God, they seek to be his representatives here on earth.
Warning Sign! When disciples lack depth in this area, they oftentimes try to be someone they aren't or determine their identity based on their environment. 
4. Mature disciples serve out of love
Scripture is packed with directions for how we should treat our fellow human beings. In Zechariah 7, the prophet chastised God's people for going through the religious motions—fasting, sacrificing, and celebrating—one minute, then treating others poorly the next. Their worship was selfish. God wanted them to "administer true justice; show mercy and compassion to one another. Do not oppress the widow or the fatherless, the foreigner or the poor. Do not plot evil against each other."
This gets to the heart of service in a mature disciple's life. Immature disciples may serve others when it's convenient or when it makes them look and feel good. But mature disciples follow Jesus' example by transforming into continuous servants. They serve others by taking God's love for people and making it their own.
Warning Sign! When disciples lack depth in this area, they can be driven by materialism or show signs of selfishness. 
5. Mature disciples share their faith story
The Good News of Jesus Christ is the greatest gift we can receive. Through Jesus' life, death, and resurrection, we are adopted as God's children. We are made holy, receive the Spirit, and enter into eternal loving relationship with our Lord. Immature disciples recognize these truths in their own lives. Mature disciples follow Jesus' instruction to share his Good News with others: "Go into the world and preach the gospel to all creation" (Mark 16:15). As mature disciples reflect on the transformation in their own lives and Jesus' influence on their journey, they yearn for those same things in others' lives. So they share the gospel and its influence on their story of faith with those who need to hear it most.
Warning Sign! When disciples lack depth in this area, they may be afraid to talk about spiritual things or make excuses for not reaching out. 
6. Mature disciples worship regardless of circumstance
We sing because we worship. We pray because we worship. We dance because we worship. By themselves these things are not all that special and can even be self-serving. But when they are done in response to God, they become worship played out in our lives. Mature disciples see worship as a lifestyle. Their hearts are aware of God's constant presence, and they can't help but marvel at his glory. Nor is their worship dependent on circumstance. Mature disciples worship God even during tough times because they know that God is always worthy of praise.
Warning Sign! When disciples lack depth in this area, they may experience feelings-based worship or have a shallow prayer life. 
7. Mature disciples defend their faith
The Bible encourages us to defend our faith: "Always be prepared to give an answer to everyone who asks you to give the reason for the hope that you have. But do this with gentleness and respect," (1 Peter 3:15). That's the point of apologetics—to explain our hope in Christ to others. Mature disciples are equipped to communicate God's truth in a world that is hostile towards him. They don't share God's truth in an overbearing way, but they display a confidence and a willingness to unashamedly and respectfully engage our culture.
Warning Sign! When disciples lack depth in this area, they might disregard the Bible or be easily swayed in their beliefs. 
8. Mature disciples join in the community of believers
The journey of discipleship should not be taken alone. The minute we are adopted as children of God, we become spiritual siblings of millions of other people who are on the same journey. Immature disciples might think they can walk the path of discipleship alone. They say things like, "My faith is between God and me. I don't need to join a church because I get more out of alone time with God." Yet whenever Scripture describes the life of a disciple, it's in the context of a community of faith. Paul addresses the members of the church in Corinth as "mere infants in Christ" (1 Cor. 3:1) because there is jealousy, quarreling, and disunity among them. Mature disciples seek unity and community with other growing disciples.
Warning Sign! When disciples lack depth in this area, they tend to isolate themselves or be divisive and exclusive in relationships. 
These are only a few key areas of maturity to look for in your students. These 8 Traits are designed to give you clues and signifiers that allow you to dive intentionally into a student's life; to ask questions that lead to growth and to offer road signs that help guide students towards Christ. Insight into the depth of a student's faith will change the questions you ask them, the truth you speak into their lives, and the challenges you offer them. It can bring a new level of intentionality to your limited time with them and help them become rooted followers of Christ.
Ultimately, only God knows the heart of a student, only he can measure faith. And while no one but the Holy Spirit can transform the heart of a student, we are responsible for reflecting, uncovering, and resembling the truth that saves lives and makes disciples.
Below you'll find a free download designed to help you create an individual discipleship plan based on these 8 traits.
P.S. Curious how we chose these 8 Traits? These 8 Traits sum up the 8 Roots of Deep Discipleship. Each Root of Deep Discipleship is designed to help students grow in one of these 8 Traits of maturity. 
When we set out to create Deep Discipleship, we started by asking youth workers and pastors what they believed to be the core of the gospel message. These ministry leaders gave us lots of answers. We took those answers, compared them with what Jesus and his followers taught as essential to discipleship.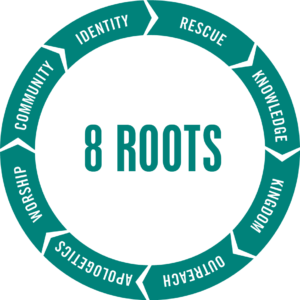 We then asked Bible teachers, professors, and Christian publishers which roots were the very core of the gospel. This narrowed the list again.

Finally, from that list, we asked youth workers again what terms expressed these themes best in a language students could learn and understand. And that left us with the 8 Roots of Deep Discipleship. 
Throughout each year of Deep Discipleship content, you'll teach and reinforce these core truths of the gospel and avoid graduating students with critical gaps in their knowledge of the faith. 
Students of 

deep

 faith understand:
Rescue—

God's core plan for salvation

Knowledge—

How to know God

Identity—

Who we are as children of God

Kingdom—

How to live and serve in God's economy

Outreach—

Our responsibility to spread the good news

Worship—

How to encounter God and respond

Apologetics—

How to defend our faith

Community—

What it means to be a part of God's family
About the Author
Doug Franklin
Doug Franklin is the president of LeaderTreks, an innovative leadership development organization focusing on students and youth workers. Doug and his wife, Angie, live in West Chicago, Illinois. They don't have any kids, but they have 2 dogs that think they are children. Diesel and Penelope are Weimaraners  who never leave their side. Doug grew up in… Read More