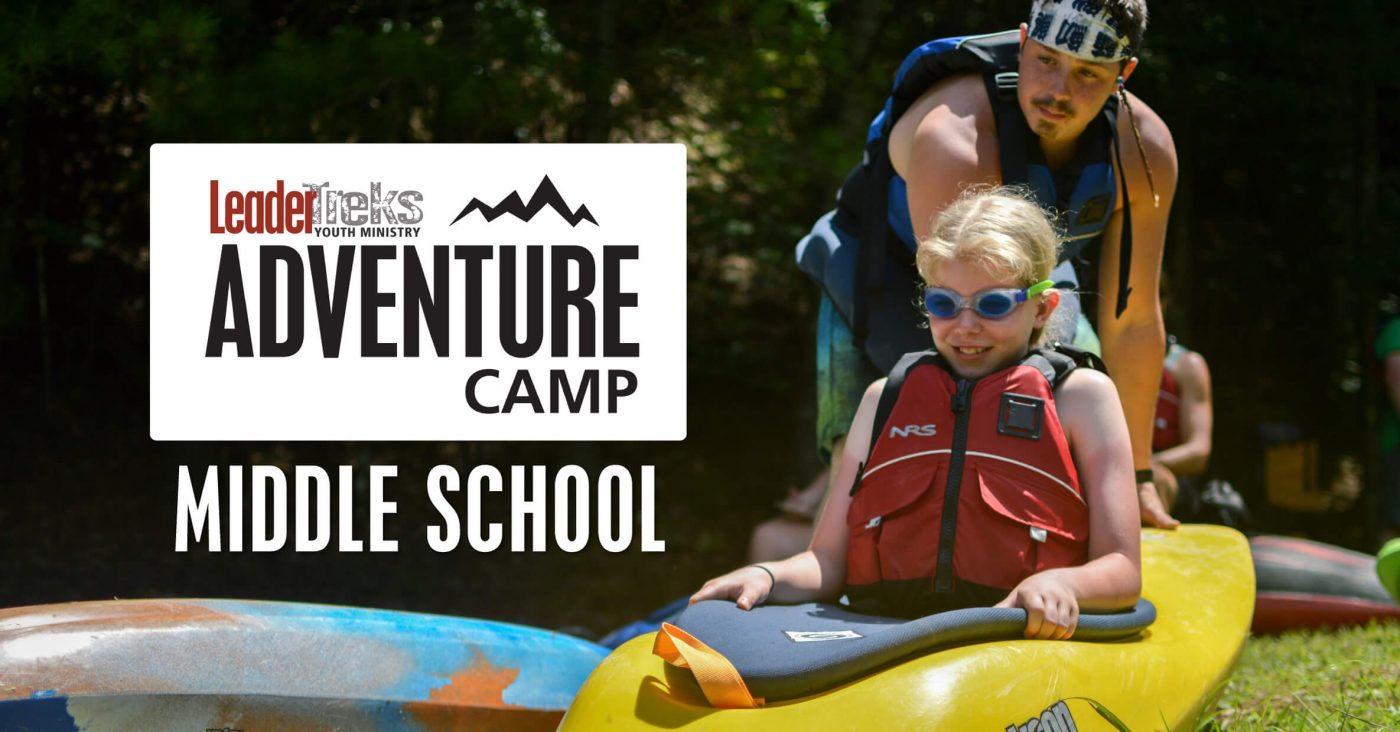 Middle School Adventure Camp
It's time to BE DARING!
Middle School Adventure Camp is a brand new take on our popular Adventure Camp program. Through a variety of daily adventure activities and teachable moments, they'll learn what it means to be daring disciples of Jesus. Its days and nights are spent in the outdoors learning what it means to take risks, to truly step outside of your comfort zone, and ultimately follow Jesus with your whole heart. We invite your middle school students to join the adventure. We invite you to be daring.
Camp Length – 5 Days
Camp Theme – Be Daring!
Location – Kentucky
Age Level – 5th, 6th, 7th, and 8th grade students
Group Size – 15-60 participants
Trips starting as low as $299
| Dates | Age Group | Price/Person |
| --- | --- | --- |
| June 1-5, 2020 | Jr High | $299 |
| June 8-12, 2020 | Jr High | $319 |
| June 15-19, 2020 | Jr High | $319 |
| June 22-26, 2020 | Jr High | $319 |
| June 29-July 3, 2020 | Jr High | $299 |
| July 6-10, 2020 | Jr High | $319 |
| July 13-17, 2020 | Jr High | $319 |
| July 20-24, 2020 | Jr High | $319 |
| July 27-31, 2020 | Jr High | $299 |
Includes: All meals except one meal out, all team camping and adventure gear (excludes sleeping bags and sleeping pads), LeaderTreks staff, and Middle School focused team books.
(Price excludes transportation)
Call Dan for more information: 877.502.0699
Book Your Trip Today  Schedule a Call with Dan to Learn More
Activities and Experiences
"Be Daring" Sessions
Mountain Biking
Kayaking
Service Outreach
Low Ropes
Camping
Hiking
Backpacking trip
What Your Students Will Learn
Learn multiple inductive Bible study methods and grow through application
Discover how their identity is grounded in Christ
Grow in ability to work and lead in teams
Enhanced understanding of group's purpose and mission while fostering unity
Grow in confidence by taking risks
Basic backcountry camping skills
Cooking, campsite management, gear care, low impact camping and stewardship
Bike care, basic maintenance, shifting & braking principles, trail riding skills
Basic kayaking paddle strokes, wet exit, river safety, rolling, and bracing
Gain a vision of how God is working in the local community and participate through service
Typical Camp Schedule (15-30 participants. Call for 31-60 participants schedule)
Sunday
Arrive, unload, set-up, and program introduction
Monday
Early Morning: Devotionals
Morning Activities: Group A bike, Group B paddle
Afternoon Activities: Group B bike, Group A paddle
Night: Dinner and Team Time
Tuesday
Early Morning: Devotionals
Morning Activities: Field Games
Afternoon Activities: Navigation Course
Night: Dinner and Team Time
Wednesday
Early Morning: Devotionals
Morning Activities: Low Ropes Challenge Course
Afternoon Activities: Backpacking trip to Mountain Camp
Night: Dinner and Team Time in Mountain Camp
Thursday
Early Morning: Devotionals
Morning Activities: Backpacking return
Afternoon Activities: Service work
Night: Dinner and Team Time
Friday
Early Morning: Devotionals
Whole Day trip to Red River Gorge State Park
Night: Dinner at local restaurant and Team Time
Saturday
Early Morning: Depart