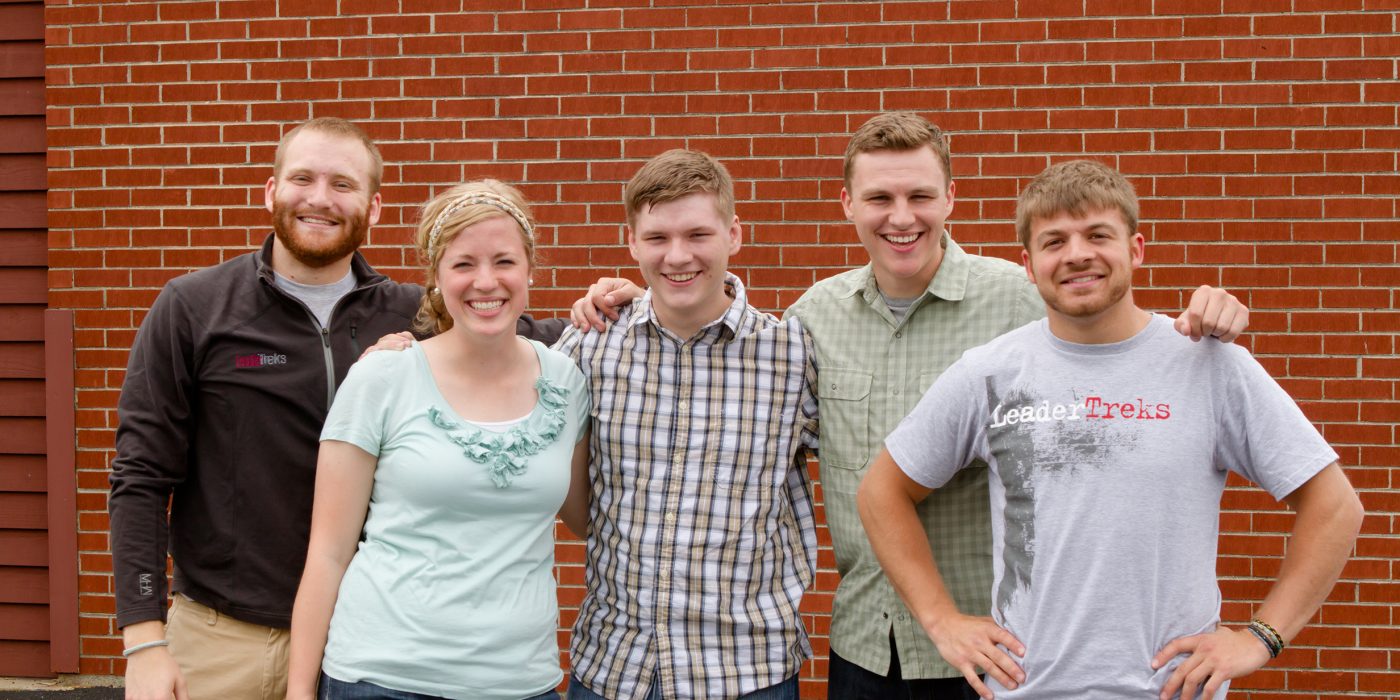 Full-Time Summit Staff
Improve your leadership.
Be part of the team.
Set the course for your life.
Apply for the Summit Program.
You're graduating college. What's next?
Graduating college can be very exciting yet at the same time very difficult. Knowing where to go next and what to do are difficult things to wrestle with, especially for those interested in going into ministry. After completing a great education, there is a need for experience to accompany that knowledge. LeaderTreks can give you that experience.
We are looking for people to join the Summit team, our full-time staff position at LeaderTreks Youth Ministry. It is a two-year position for recent college graduates who are looking to further our mission of developing the next generation of leaders. At LeaderTreks Youth Ministry, our mission is to develop leaders to fulfill the Great Commission. We want to make students into leaders who will impact the world for Christ. To do this, we put students in the classroom of mission and wilderness trips where students can make decisions and live with the consequences of those decisions.
We also want to help you improve your leadership. The two-year Summit program is designed to build on the education you have and give you the experience you need. At the end of the two year program, you will take what you've learned and be sent out as a prepared and effective ministry leader.
The Summit Program
What the two-year Summit program looks like:
As a full-time staff member at LeaderTreks, you will lead trips for students, equip students through Leadership Training Events, and be a part of our Summit team.
Here is what you will do:
Be trained for 16 weeks in the LeaderTreks program and leadership development model.
You will learn the LeaderTreks program and leadership development model through hands on, interactive learning. Training includes:
Learning how to teach our Leadership Training Retreats. Through this, you will grow in your understanding of leadership and in your ability to teach for transformation.
Developing the ability to facilitate and debrief our team-building initiatives.
Building a leadership and personality profile by using 8 different assessments.
Learning the hard and soft skills of running a leadership focused trip
Understanding the biblical basis of our 10 Leadership Principles and 5 Tasks and Traits of a Leader and knowing how to use them for discipleship.
Being a supporting trip leader on fall and spring trips. You will work alongside an experienced LeaderTreks trip leader on these trips, learning from them about how to lead trips effectively.
Lead mission and wilderness trips for 12-15 weeks each year.
Although the summer is our main trip season, we also run trips in the fall, winter, and spring. You will lead 3-5 weeks of trips during the school year and 9 weeks of trips during the summer months. You will work alongside missionary partners throughout the United States and Latin America who are committed to the Lord and are passionate about developing leaders. These are visionaries who will show you what it means to do real ministry.
Our mission sites include Atlanta, Chicago, Kentucky, Memphis, Pawleys Island, Montana, Arizona, Honduras, and Costa Rica.
Our wilderness trips include backpacking in the mountains of Wyoming, North Carolina, and Georgia, and canoeing in Arkansas.
How a Trip Works: Principles + Experience = Transformation
On trips, we teach students practical leadership principles and give them an experience in which they can put them into practice. We believe this is how transformation happens.
Trip leaders are trained to be deliberate and intentional with every aspect of the trip in order to transform students' lives rather than simply giving them a good experience.
Here are some examples of what this looks like on a trip:
Food: The Summit trip leader gives a student the responsibility to lead their peers on the food team to cook and feed their team. The trip leader coaches that student, using both their successes and failures to teach leadership principles.
Work Site: The Summit trip leader selects and facilitates the work site in order to give students maximum opportunities for growth. They are trained to strategically apply leadership principles and biblical truth to connect the dots between what is happening on the trip to their relationship with Jesus.
Ministry: Summit staff coach and mentor ministry team student leaders in what it means to lead their team by connecting leadership principles with real ministry experience, helping students realize their potential to do amazing work in God's kingdom.
Evaluation: Each evening, teams will have an evaluation session led by Summit staff. These sessions will help students recognize positive actions as well as things that need improvement. The trip leader will help students set goals and will teach them to make specific and measurable action steps to achieve those goals.
Teaching: Summit staff will lead nightly Team Time meetings on trips. These meetings include evaluation, Bible study, growth journal sessions, and an encouragement segment. Trip leaders will facilitate dynamic discussions with students, helping them see the connections between the Bible, their experiences on the trip, and their lives back home.
Develop interns during the summer.
As a part of the Summit team, you will have one to two college-age interns assigned to work with you during the summer. You will mentor and develop them as you work alongside each other.
Summit staff will have weekly mentoring sessions with interns assigned to them.
Trip leaders will delegate responsibility to their interns in a way that will benefit trips and students as well as help the intern grow in leadership and discipleship.
Facilitate Leadership Training Retreats for youth groups and Christian schools.
You will travel across the country to lead these events for 3-5 weekends a year, partnering with some of the most dynamic youth ministry leaders and Christian school teachers in the nation.
These events are a more formal type of leadership training that include speaking with a power point presentation, facilitating large group and small group discussion, and leading and debriefing team-building initiatives.
Leading these events will challenge you to improve your teaching and will allow you to intervene in students' lives.
Gain clarity in your passions, gifts, and calling.
As part of the Summit team, you will gain a clearer perspective of God's calling in your life. This happens through the training you receive, during the experiences you have leading trips and training events, and through the people you will work with.
You will take a battery of assessments that will help you better understand how God has gifted and wired you, building a personal leadership and personality profile.
You will receive weekly evaluation and mentoring from our Program Director that is focused on helping you improve your leadership and placing you in areas of giftedness.
Challenge your fellow Summit team members to grow alongside you.
The Summit program is an experience that will challenge you to grow in your faith as you challenge others to do so as well.