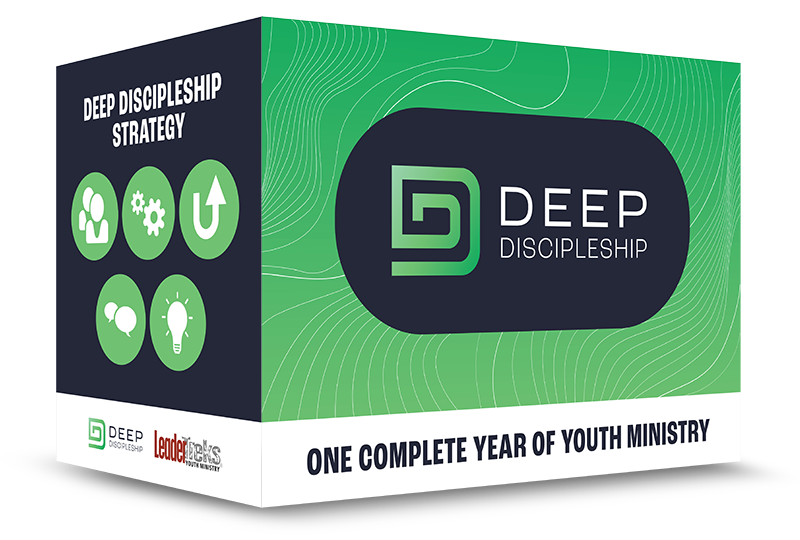 Deep Discipleship – Essentials
Deep Discipleship is designed to be more than a curriculum; it's an entire system to support the discipleship efforts across your ministry.
The Deep Discipleship Strategy eliminates the uncertainties of how to move your students toward spiritual maturity by focusing on the 5 key elements that promote discipleship in your youth ministry:
Relational Volunteer Team
Intentional Programming
Transformational Discipleship
Partnering with Parents
Student Leadership
---
What's Included
Our Essential bundle provides the vital pieces needed to begin a strategic approach towards discipling your students. You will have instant access to all the downloadable content and online resources so you can start planning and implementing the Deep Discipleship system today.
Teaching

12 Months of Curriculum

2 Bonus Series (Seasonal & Graduation)

56 Large Group Sermon Outlines w/Illustrations

56 Small Group Lessons

56 Hybrid Teaching Lessons

50 Object Lesson Library

14 Series Promo Videos

14 Series Bumper Videos

Series & Screen Graphics

Series Social Media Package

Worship Song Playlists

Weekly Volunteer/Parent Emails

Annual Teaching Strategy

Discipleship

Discipleship Pathway Tool

Reach–Grow–Go Strategy Guide

Youth Ministry Assessment

8 Roots of the Gospel Training Guide

Annual Ministry Strategy Planner

4 Outreach Events

4 Go Serve Events

Disciple Now / Weekend Retreat

Discipleship Tracker App

Games

25 Interactive Screen Games

Instructions & Gameplay Options

8 Team-Building Games

Student Leadership

Student Leadership Strategy Guide

Leadership Pathway Tool

Reimagining Student Leadership E-Book

Leadership Style Assessment

12 Leadership Team Teaching Lessons

3 Leadership Service Project Event Guides

Leadership Weekend Retreat

Volunteers

Volunteer Kickoff & Vision-Casting Event

4 Quarterly Training Events

Year-End Celebration Events

Volunteer Roles Strategy Guide

Volunteer Placement Tool

Volunteer Training Cards

Volunteer Email Templates

Editable Volunteer Postcards

Discipleship Pathway Video Training & Guides

Leadership Pathway Video Training & Guides

Volunteer Planning & Schedule Tool

Monthly Calendar Templates

Semester Calendar Templates

Parents & Families

Parent Strategy Guide

Weekly Email Templates & Discussion Guides

Editable Parent Postcards

12 Parent/Student At-Home Activities

3 Parent Meetings

3 Family Service Projects

2 Family Night Events

Monthly Calendar Templates

Semester Calendar Templates

Missions

Bring 2 Free Adults on LeaderTreks Mission Trips

Greenhouse Mission Trip Growth Resource

4 Pre-Trip Training Sessions

On-Trip Devotional

4 Post-Trip Training Sessions
Available in Premium

Available in Premium

Available in Premium

Available in Premium

Available in Premium

Available in Premium

Available in Premium

Available in Premium

Available in Premium

Available in Premium

Available in Premium

Available in Premium

Available in Premium

Available in Premium

Available in Premium

Available in Premium

Available in Premium

Available in Premium

Available in Premium

Available in Premium

Available in Premium

Available in Premium

Available in Premium

Available in Premium

Available in Premium

Available in Premium

Available in Premium

Available in Premium

Available in Premium

Available in Premium

Available in Premium

Available in Premium

Available in Premium

Available in Premium

Available in Premium

Available in Premium