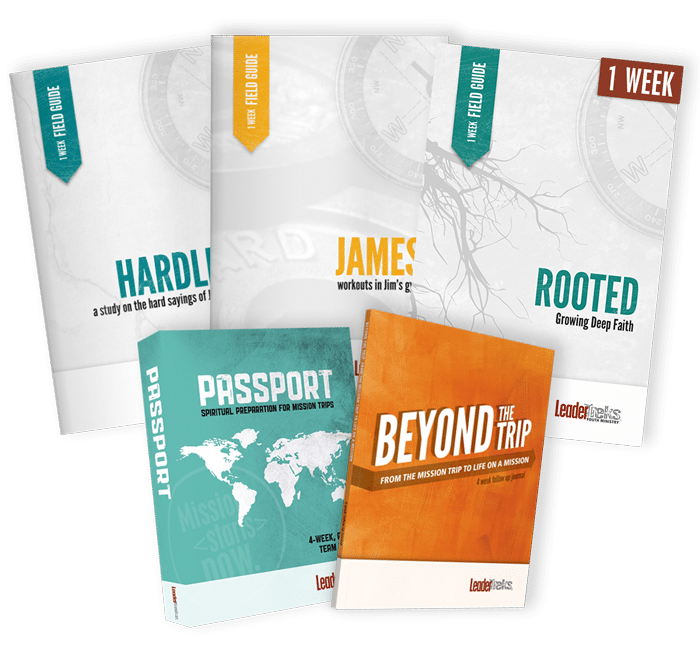 Mission Trip Sample Pack
A Sample Pack of Mission Trip Resources
Mission Guides for Pre-trip, On-trip, and Post-trip
---
The Mission Trip Value Pack includes:
1 Passport Pre-Trip Training Download ($20.00 Value)
3 On-Trip Journals

James: Trip Devotional ($7.95 Value) 
Rooted: Trip Devotional ($7.95 Value)
Hardline: Trip Devotional ($7.95 Value) 

1 Beyond the Trip Post-Trip Journal ($6.95 Value) 
---
Sample some of our favorite Mission Trip Resources 
Inside Passport you'll find 4 Pre-Trip Training Sessions to help students:
Connect with their personal mission
Understand how their mission connects with God's plan for the world
Learn how the team is essential for accomplishing God's purpose
Discover that this trip is the starting line of their life mission, but their mission has no finish line
Each On-Trip Journal includes 6 Days of On-Trip Devotions using:
Bible Study Methods
Prayer Journal
Growth Journal
Team Evaluation Tool
The James: Trip Devotional walks students through each chapter in the book of James and challenges students to apply their faith in practical ways, such as controlling the tongue, sharing their faith, and loving people equally.
The Rooted: Trip Devotional covers 6 core gospel topics: Rescue, Identity, Outreach, Worship, Kingdom, and Community. It helps students grow deeper in their walks with Christ by focusing on discipleship.
The Hardline: Trip Devotional studies 6 of Jesus' most difficult sayings in the Bible and invites students to take a clear stance on truth.
We started leading LeaderTreks Trips in 1994, and we use these very same Mission Trip Devotionals on each of our trips.
Beyond the Trip features 4 Weeks of Post-Trip Devotions including:
Bible Studies
Challenges
Thought Provoking Experiences
Hard Questions
Insights into Service, Community, God's Story, and Connecting with God in your everyday life