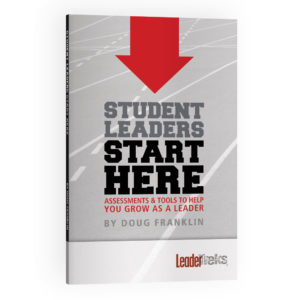 Student Leaders Start Here
$7.95
Look Inside
A practical, interactive workbook to help students grow in leadership. Contains 5 leadership assessments for students.
Student Leaders Start Here
Description
Student Leaders Start Here is a practical, interactive workbook, to help students grow in leadership. It focuses on three topics that are crucial for developing as a leader, and gives students a personal leadership profile for their strengths and growth areas in each topic. Give this book to the individual student who is growing in leadership or use it in your student leadership team and small groups when you follow the bonus pages for small group facilitators.
Student Leaders Start Here topics include:
Leadership Design (includes: Leadership Wiring & Spiritual Gifts Assessment)
Your foundation of leadership is built on who you are. Each person will lead differently based on how they were created and how they have been specifically gifted by God. This information will determine how we act in different situations and allow us to serve others through our strengths.
Balancing Act (includes: Leadership Skills Test & Character Trait Assessment)
We all know a great visionary who has acted inappropriately. We also know the leader who wants everything done right but can't execute the vision. The key here is balance. A leader must learn how to execute skills, but also be someone of great character.
Mission First-People Always (includes: Leadership Style Assessment)
God has given us a mission and the mission is people. Leaders generally value one over the other, thus neglecting the one they do not value. But in leadership, tasks and relationships are tied together. Great leaders understand this and work hard to care for people, while still reaching goals.
The process of leadership development is different for each person but the three principles in this workbook are foundational to getting the right start.