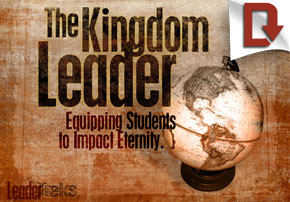 The Kingdom Leader
Overall Topic: A downloadable sermon series on equipping your students to impact eternity by leading for God
Number of Sessions: 4
Session Topics:
What is leadership?
Who leaders are
What leaders do
What leaders need
Distinctive Element: The Kingdom Leader is a downloadable, ready to use, sermon series which examines the foundations of leadership. At LeaderTreks we believe that leadership can be learned and that it changes everything.
Students want to be part of something bigger than them. Give them a vision of being a leader in God's Kingdom, and then give them the skills they need to lead. This sermon series focuses on student leadership development.
A teaching script and PowerPoint background are included.
Each session includes:
Team game
List of discussion questions for team time
Planning sheet for worship
Practical Bible-based message
List of application questions for team discussion
Handout for students to take notes