What is Intergenerational Ministry?
Intergenerational ministry is a ministry with the primary goal to connect and unite every generation in shared relationships, worship, and service.
For many years, ministry leaders have expressed that there's a difference between a multigenerational and an intergenerational church. Fuller Youth Institute says it well,
"Simple proximity doesn't equal relationships."
And it would seem that their statement remains true. While most churches today have a diversity of generations represented, very few churches have intergenerational ministries that serve to intentionally connect the generations.

Intergenerational ministry requires more than a church event where the generations are together. It looks like intentionally cultivating intergenerational relationships designed to impact and enhance the experience of each generation inside the church.
THE GOALS OF INTERGENERATIONAL MINISTRY
Much more than a lofty dream, intergenerational ministry is a philosophy of ministry with several specific goals in mind. Intergenerational ministry looks to (1) provide a sense of belonging, (2) spur others on toward spiritual maturity, and (3) promote unity in the church.
1. PROVIDING A SENSE OF BELONGING
Intergenerational ministry desires to help church members feel like they belong and are able to play an important role in the life of the church. The Bible is clear that we all belong to the body of Christ, regardless of our age or generation.
Paul wrote to the Corinthians,
"The eye cannot say to the hand, 'I have no need of you, 'nor again the head to the feet, 'I have no need of you.' On the contrary, the parts of the body that seem to be weaker are indispensable, and on those parts of the body that we think less honorable we bestow the greater honor, and our unpresentable parts are treated with greater modesty,which our more presentable parts do not require. But God has so composed the body, giving greater honor to the part that lacked it, that there may be no division in the body, but that the members may have the same care for one another. If one member suffers, all suffer together; if one member is honored, all rejoice together.Now you are the body of Christ and individually members of it." (1 Corinthians 12:21-27 ESV)
In the same way, one generation can't say to another, "I don't need you." Instead, God intends for us to show value and care towards one another. Young people need older believers to share wisdom. Older believers need the lively example of young believers to remember how to dream. Families rely on single friends for help in growing strong believers, and single believers trust families for friendship and community.
2. SPURRING OTHERS ON TO SPIRITUAL MATURITY
Intergenerational relationships are also intended to help pass on the faith to the next generation. Scripture is full of genealogies, historical memorials, and in-depth examples of generations passing the baton. (Moses and Joshua, Elijah and Elisha, Paul and Timothy to name a few). It's easy to see that intergenerational ministry is not a new trend, but God's design for the fabric of our communities.

The Psalmist writes,
"One generation shall commend your works to another, and shall declare your might acts." (Psalm 145:4 ESV)
The implication of Psalm 145:4 is that one generation has experienced the greatness of God in a real and tangible way. They have seen and savored him firsthand. Intergenerational ministry provides space for these mature believers to share what they have seen and savored and point the emerging generation toward spiritual maturity.
3. PROMOTING UNITY IN THE CHURCH
The church is at its best when it's unified, with all of its members chasing after the same mission.
Consider Jesus' prayer for all believers,
"I do not ask for these only, but also for those who will believe in me through their word, that they may all be one, just as you, Father, are in me, and I in you, that they also may be in us, so that the world may believe that you have sent me.The glory that you have given me I have given to them, that they may be one even as we are one,I in them and you in me, that they may become perfectly one, so that the world may know that you sent me and loved them even as you loved me." (John 17:20-23 ESV)
His prayer was that his church would be one so that the world would see and experience his love. The unified church is a powerful tool in the hands of a loving God. Intergenerational ministry encourages unity in mission and purpose across the whole church, regardless of age or stage of life.
TODAY'S NEED FOR INTERGENERATIONAL MINISTRY
Intergenerational ministry has been discussed by ministry leaders for the last several decades. But, due to the fact that, church members are isolated, students are walking away from their faith, and most churches have silos, there's a very strong case that it's needed now more than ever in today's churches.
1. CHURCH MEMBERS ARE ISOLATED
As a result of the pandemic, many of our communities are more isolated than ever before. For many elderly men and women as well as other at-risk individuals, it's been months since they've stepped foot inside a church building. Singles (and even kids and teenagers) who would normally enjoy a vibrant community continue to work or learn from home and only connect with a limited number of friends and family members. Young families are navigating the pressures of homeschooling or e-learning, and many feel overwhelmed and unsupported.
Our society is distant and disconnected, and we desperately need the sort of meaningful relationships and connections that an intergenerational community can provide.

Imagine a scenario where an elderly woman receives an encouraging note from a young teenage girl at the church saying that she's missed. Or picture a young dad who's recently lost his job meeting for coffee and being discipled by an older church elder. Imagine a group of young adults offering their support to the young family that's homeschooling for the first time.
These are just a few examples of the kind of relationships that intergenerational ministry encourages.
2. STUDENTS ARE WALKING AWAY FROM THE FAITH
The recent research is staggering. Young people continue to walk away from the church and their faith after high school. But studies also suggest that students who have multiple adult believers intentionally investing in their lives are more likely to stay connected to the church and flourish in their faith, even after graduation.
Intergenerational ministry is needed to prevent more students from walking away from the faith.

Holly Allen, Professor of Family Science and Christian Ministry at Lipscomb University, sums up much of the available research when she says,
The empirical evidence tells us that it does in fact matter for emerging adult religious outcomes whether or not [the participants] have had non-parental adults in their religious congregation to whom they could turn for help and support. Adult engagement with, role modeling for, and formation of youth simply matters a great deal for how they turn out after they leave the teenage years.
Intergenerational ministry has the potential to make a huge difference both in the life of a student and in the future of the church.
3. MOST OF TODAY'S CHURCHES HAVE SILOS
Fifty years ago, the church felt like it could best minister to different age groups by separating them and creating programs to meet each group's individual needs. While this strategy was somewhat effective, it also began to create silos in the church.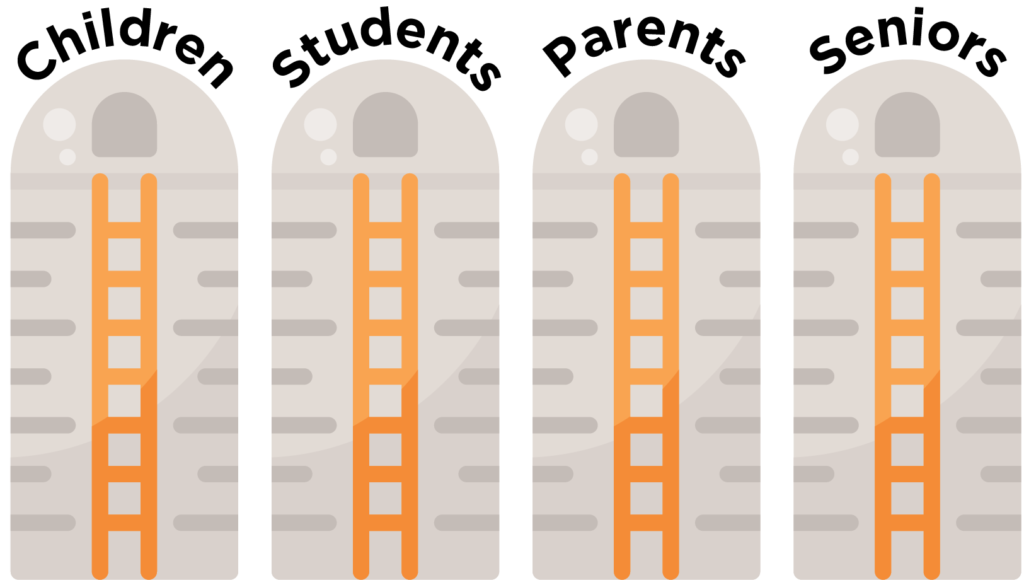 (The separation between the generations is even evident in how many church buildings are divided. The children's wing is separate from the main sanctuary. The seniors meet in the fireside room, while the students gather in the basement. And the young adults meet somewhere off campus.)
This type of disconnect inevitably leads to competition between ministries.
Groups argue over who needs more space or who needs a bigger budget. Some churches even fall into a dangerous numbers game, trying to demonstrate that a given ministry is having more impact than another. And in the end, the interests of some groups are entirely neglected because there's no one to advocate for them.
Intergenerational ministry is what's needed if churches are going to move from silos to unity. The world continues to challenge the church's commitment to love, Scripture, marriage, and life. And the church can't continue to answer the world from each generation's perspective. It must speak with one unified, intergenerational voice—the voice of Christ from Scripture.
A CATALYST FOR INTERGENERATIONAL MINISTRY
It's clear that intergenerational ministry is an important next step for our churches, but practically speaking, intergenerational ministry can appear to be more easily talked about than accomplished. Many ministry leaders feel like the burden of unity rests on their shoulders, but they're uncertain of how to move forward.
That's why we love the Pray for Me Campaign.
The Pray for Me Campaign is a simple step towards intergenerational ministry that the whole church body can get behind.
The Pray For Me Campaign uses the common ground of prayer to help link the generations at your church. During the campaign, adult believers from various generations become Prayer Champions and commit to a year of prayer for one student or one family with young children.

The Pray for Me Prayer Guides equip the Prayer Champions to pray specific, Scripture-based prayers for children or students through the lens of the 7 Essentials found in each guide.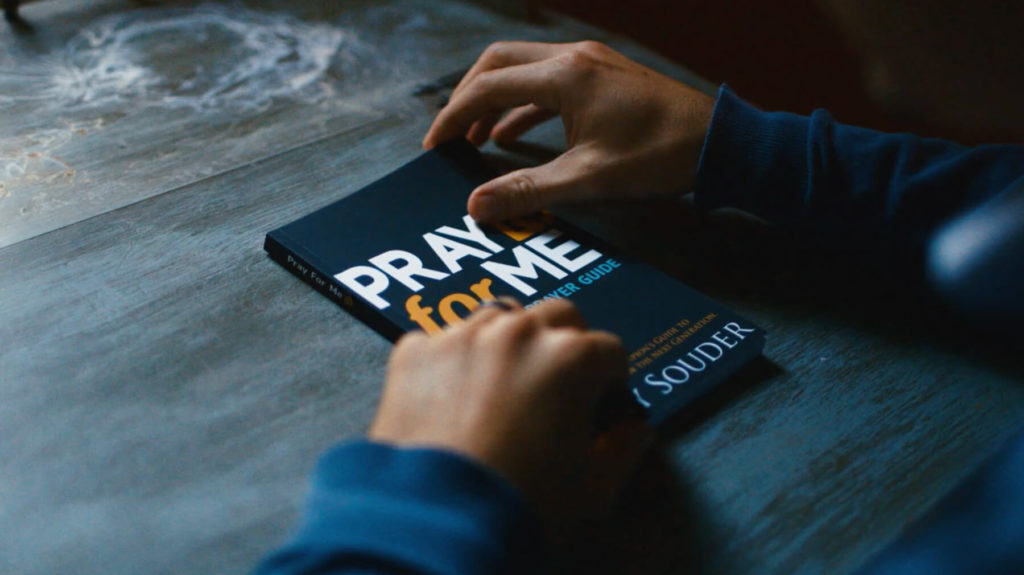 With the Pray for Me Campaign, your church can easily provide every adult in every generation the chance to make a difference in the life of a family, student, or child.
To date, the Pray for Me Campaign has helped to create over 43,000 intergenerational relationships.
As a result of the Pray for Me Campaign, everyone in your church will have the opportunity to be in relationship with each other. And prayer is the only the start!
Soon people will be seeing real needs in the community of faith and will have the opportunity to connect and value each other for who God has made us to be.
Intergenerational ministry is all about uniting the church, helping church members belong, and reaching the next generation with the truth of the Gospel. And with our disconnected society, students walking away from the faith, and the silo-nature of the church, it's critical that churches take steps towards connecting or reconnecting the generations.
Give the Pray for Me Campaign a try, and see how simple it can be to link the generations at your church through prayer.
About the Author
Doug Franklin
Doug Franklin is the president of LeaderTreks, an innovative leadership development organization focusing on students and youth workers. Doug and his wife, Angie, live in West Chicago, Illinois. They don't have any kids, but they have 2 dogs that think they are children. Diesel and Penelope are Weimaraners  who never leave their side. Doug grew up in… Read More