Why Wilderness
So often in youth ministry when we consider impactful experiences for our students we think about mission trips. The majority of youth ministries participate in mission trips or similar experiences locally, nationally, or even internationally. Students will also refer to these trips as times when they were challenged, encouraged, and grew spiritually. These are experiences where students were given the opportunity to serve others and see how people in different situations in life live. There are many benefits to a short-term student mission trip, but it isn't the only option.
Have you ever considered taking your students on a wilderness trip before?
Here are my top five reasons for why I think wilderness trips are great and how these experiences can benefit your students:
1. Spending quality relational time 
In my opinion one of the most valuable aspects of a wilderness trip is the amount of time that students get to spend focusing on relationships. Students will experience long stretches of time all together – whether they're walking along a trail together or setting up camp for the night, these are great opportunities for them to talk, share, and be authentic with each other, and hopefully with you too! As they're freed of distractions and their rigorous schedules, students also have time to refocus on their relationship with God –  sharing with each other where they are in that journey, receiving encouragement, and challenging one another to keep growing. They also have the freedom to spend time in prayer and not feel rushed by the next thing that has to get done or meeting they need to be at.
2. Get out of their comfort zone
The wilderness can prove to be a wonderful classroom for teaching spiritual truths, leadership principles, and other important topics. It's also very effective at pushing students out of their comfort zones. Many students today have never had the chance to hike in the woods, cook over a campfire, or raft down a river. These new experiences can be incredibly fun, they can also feel intimidating and test a student's confidence. However, when these students step out of their comfort zones it creates a practical opportunity for them to rely on God and others in new and exciting ways.
3. Realizing what's really important
It's amazing to watch a group of students on the first day of a wilderness trip and compare that same group just a few days later. The students who thought that they might die without their cell phones, hot showers, or Netflix suddenly realize they can survive, and to their surprise many of them may even begin to prefer life without some of the niceties they're used to. During a wilderness trip students are forced to confront not only with how much they have in life, but also how much they actually need – and often times they end up finding that those two things are miles apart.
4. Seeing God's creation
Few things in life make us stop and appreciate God's creativity like His creation. While our own backyards and local parks are great, it's nice to have a change of scenery. Climbing up a majestic mountain offers a whole new meaning to a mountaintop experience. When we're hiking in a beautiful forest or paddling on a gorgeous lake, we get to witness God's magnificent creation – the rocks, trees, water, and wildlife that remind us of the artfulness and intentionality of our great Creator.
5. Slowing down the pace of life
For our students, and even ourselves, life can become so busy. Students' lives are over scheduled and they're overwhelmed. They lack the time to step back and slow things down. A wilderness trip provides that opportunity. While like any trip there is a destination to reach and a schedule to keep, the journey is often more relaxed and there is time for conversations, reflection, and intentionality. The hustle and bustle of life is put on pause while floating down a river or hiking in the woods. We get a temporary, but necessary, breather from our crazy lives – a time to rest, regroup, and re-evaluate.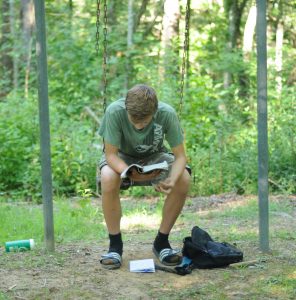 Ready to take your students away from the busyness and distraction? Ready to offer them the opportunity to grow closer as a team and closer with the Lord? A week away at Adventure Camp or on a wilderness trip creates space so that they can hear God's call in their lives and challenges them to do more than they ever thought possible.
LeaderTreks offers amazing adventure experiences and wilderness trips in Wyoming, Georgia, and Kentucky. For more information, visit www.leadertreks.org/adventure-trips/ or call Dan at 630-668-0936.  
About the Author
Frank Newburn
Frank Newburn is a husband and father of three and currently serves as the Generations Pastor at Declaration Church in Spring, Texas. Before that Frank was the youth director for Wesley United Methodist Church in Bloomington, Illinois for 13 years. Frank has also worked for LeaderTreks as a Leadership Specialist and Trip Leader. His ministry… Read More