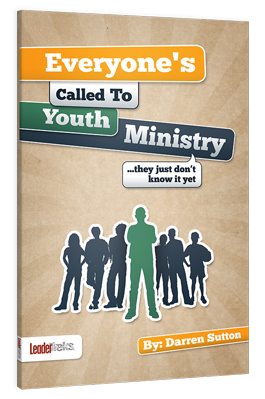 Everyone's Called to Youth Ministry…They Just Don't Know it Yet
A book about changing your perspective on who should serve in youth ministry.
---
Key people who are willing to give of their time and volunteer with students is crucial, but who do you recruit and where are they hiding?
If you're a full time youth worker, you have a lot on your plate. Parent meetings, planning a calendar, budgets, teaching, big events, small groups, keeping your senior pastor in the loop, and oh yeah, building relationships with students. Even if you had multiple people teaming up to take on all the responsibilities of the youth ministry, you still would not be able to get everything done. You need a team, but often building that team seems impossible.
In this bold new look at recruiting and training quality adult staff and volunteers, Darren Sutton challenges our thinking on who is called to serve in the youth ministry. Hint: it's everyone. Darren's humor will draw you in, and his wisdom and experience in youth ministry will challenge your perspectives on who to recruit and how to train them. This book will help you look everywhere for adults who can passionately serve in youth ministry. After all, everyone's called to youth ministry…they just don't know it yet.
Darren Sutton has served in youth ministry for over 20 years. He has a passion for students and the adults who influence them. Together with his wife, Katie, he co-founded Millennial Influence and produces a weekly podcast reaching parents of teenagers. Darren and Katie have three teenagers of their own and Darren currently serves a student ministry in Texas.
Find him online at:
www.facebook.com/darrenandkatiesutton
www.twitter.com/darrensutton
www.everyonescalledtoyouthministry.com
Currently on clearance.