Mission Trips for Teens (Top 5 Organizations)
Choosing mission trips for teens can be a daunting task. With so many great and unique organizations to research and choose from, finding the right trip can easily become an overwhelming, high-pressure experience. Here's our take on why the right partner organization makes all the difference and our recommendations for the Top 5 Organizations for teen mission trips. 
Download our "Find the Right Trip Assessment" at the Bottom of This Page
Finding the Right Partner Organization
You need need an affordable trip that matches your values and prioritizes protecting the local community. It's not enough to pick mission trips for teens based on the price tag or the destination; you've got to assess potential ministry partners based on what they value and how well they avoid causing harm to the local community.
"It's not enough to pick mission trips for teens based on the price tag or the destination; you've got to assess potential ministry partners based on what they value and how well they avoid causing harm to the local community."
Do Your Values Match?
The best mission trips for teens are the ones that help you reach your goals for your youth group. So selecting the right partner organization is very important. As you look at potential organizations, make sure you know the purpose for the trip and how it fits in your church's strategy for youth ministry. Maybe your focus is evangelism. Perhaps you're looking to expand your students' cultural awareness. Or maybe you're intent on developing student leaders in your ministry.
Whatever your focus, make sure your goals line up with the expressed goals of your partner organization. In your search, look at an organization's shared values or the outcomes that they promise from their trip experiences. Talk with other youth workers who have used each organization and ask if, in their experience, the partner organization delivered on their promises.
Will They Prioritize Protecting the Local Community?
Most of us would agree that mission trips for teens have the potential to transform our youth ministries, but we must be careful that these trips aren't destructive to the communities we serve in. We don't want our trips to invade existing systems and structures, take away local jobs, or rob people of their dignity. And we surely don't want our students to undo the work of a long-term missionary or the local church.
The best way to avoid causing harm to the community or church is by choosing the right partner organization. As you look at organizations, look for groups that partner with full-time missionaries. Working with a missionary partner who is long-term in the community is a must! This type of missionary partner knows the local people and can best identify who needs the most help from your group and how to best help them. Get specifics from each organization about who they work alongside to ensure that your trip will help rather than hurt the local community.
Download our "Find the Right Trip Assessment" at the Bottom of This Page
---
Our Top 5 Organizations that Facilitate Mission Trips for Teens
Here are our recommendations for the Top 5 Organizations that facilitate mission trips for teens.
Best Urban Ministry Experience: City Service Mission
City Service Mission "provide[s] an effective urban ministry experience that transforms lives, influences churches and communities, and honors Christ." According to their website, they lead mission trips for teens in 9 cities across the United States and are committed to helping integrate your students into a "variety of hands-on ministry opportunities" that "[supply] substantive help to God's people in the city." They offer Urban Ministry trips for Junior High Students, Senior High Students, Mixed Groups, College Students, Adults, and families. You'll find their Core Values listed here along with their Statement of Faith.
Why We're Fans: CSM is committed to introducing students to how God is at work in the city, and they choose to partner with "the indigenous organizations that operate on the front lines of urban ministry."
Best Relational Outreach Experience: Camp Barnabas
Camp Barnabas is a one-of-a-kind camp experience for individuals with special needs or chronic illnesses. According to their website, their camp "provides ministry and social experiences that increase spiritual knowledge, social learning and human dignity." Groups are invited to serve and participate in daily relational ministry during the various weeks of camp at Camp Barnabas. You can learn about their Mission and Values here, and don't forget to see what youth workers have to say about taking their students to Camp Barnabas.
Why We're Fans: Camp Barnabas give students the opportunity to step on their campus and immediately "be the hands and feet of Jesus." Students who serve at Camp Barnabas learn to choose purpose over preference as they serve a group of people that many would describe as "the least of these."
Best for Leadership Development: LeaderTreks Youth Ministry
LeaderTreks Trips are missions trips for teens designed to grow students as disciples and leaders. On a LeaderTreks trip we desire to see students move from fear to faith. We challenge students to study and apply God's Word, and we invite them to embrace the risk of leadership. LeaderTreks Trips take the typical mission trip activities activity and turn them into leadership laboratories. Through our service projects, relational ministry activities, and age-appropriate responsibilities we provide real leadership experiences for students. Read our Statement of Faith, discover what makes LeaderTreks trips unique, and explore our various trip sites.
Why We're Fans: We believe that the church is one generation away from a leadership void, and we're committed to raising up the next generation of Christian leaders through our trips, training, and curriculum. We've been running trips for 25 years, and we have no greater joy than to watch the students on our trips step outside of their comfort zones and learn to lead in God's Kingdom.
Best Large Group Experience: Group LifeTree Adventures
LifeTree Adventures prioritizes "meaningful service projects at carefully selected and prepared sites," on their mission trips for teens and, in doing so, they're able to accommodate groups of up to 450 students at their domestic sites. Trips with LifeTree Adventures also include mystery excursions, such as scavenger hunts, as well as unique cultural experiences to help your team take it the "locale and its individualized, deep heritage." Click here to learn their History and see their LifeTree Adventures Guarantee.
Why We're Fans: For several decades, LifeTree has been serving the church and dozens of communities both domestic and international. They offer a variety of experiences and are uniquely positioned to serve larger student groups.
Best for Individual Teens: Team
Team offers over 200 short-term missions opportunities for individuals. Short-term opportunities range from 2 weeks to 8 months and span 30 countries over 6 continents. According to their website, Team provides "a professional and personalized experience for each short-termer through one-on-one coaching, individualized placement, [and] in-depth training and debriefing." Click here to learn more about TEAM's Purpose and Vision as well as their Core Values.
Why We're Fans: Team has a driving passion to equip missionaries to enter the mission field. They're committed to partnering with existing churches to promote church growth worldwide, and they do the hard work of setting individuals up for successful ministry.
---
Two great mission trip resources to help you find the right mission trip for your teens
Here's what's included in the Find the Right Trip Assessment:
TRIP ENVIRONMENT: What's the best setting for your trip?
PURPOSE: What is the main goal of your trip?
STUDENT INVENTORY: In what areas does your team need to grow?
LEVEL OF CHALLENGE: What sort of experience will put students in their growth zone?
---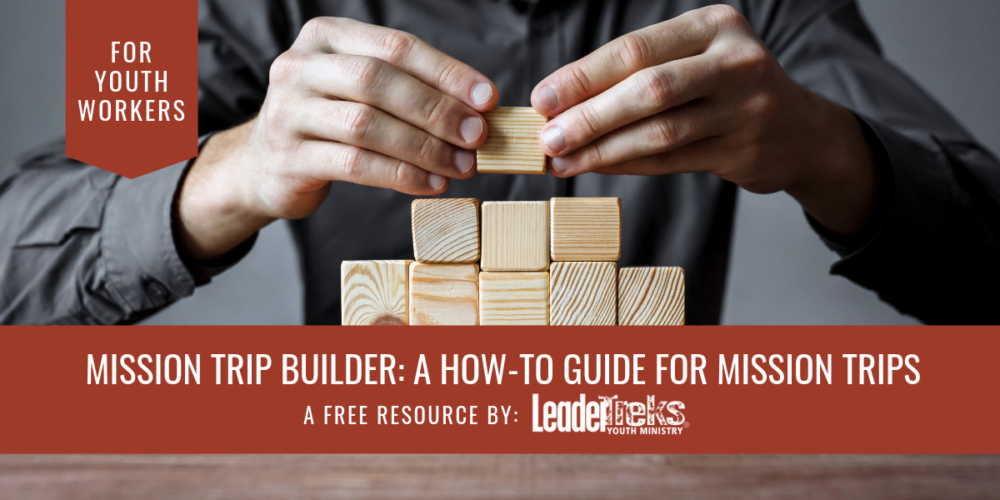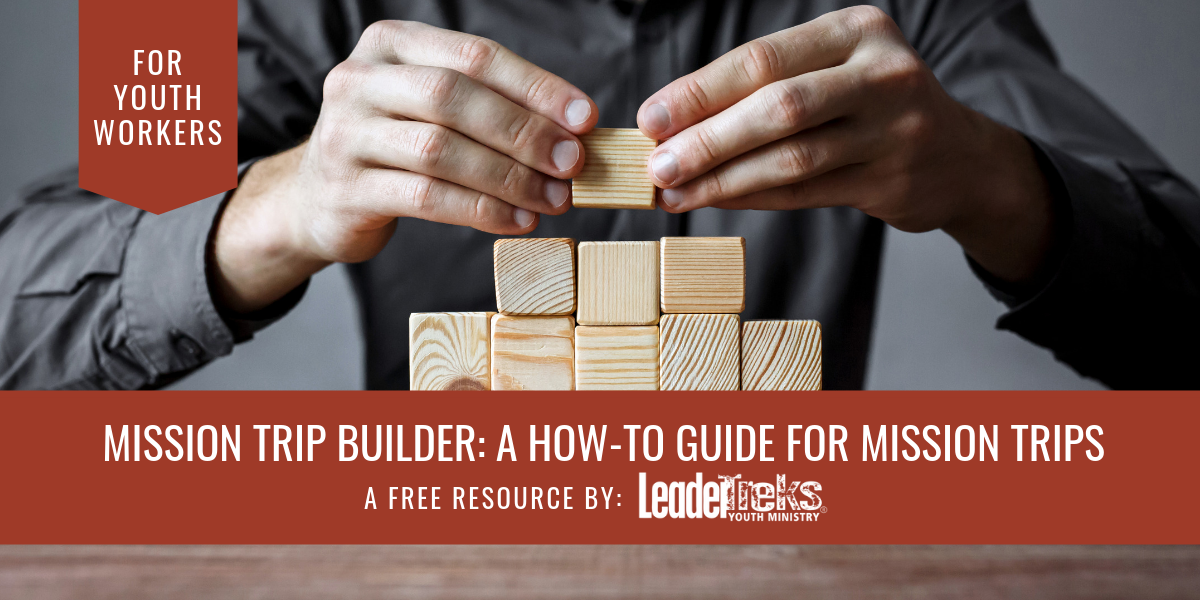 The Mission Trip Builder is a How-To Guide for Mission Trips designed specifically for youth workers who are looking to craft an intentional mission trip experience for their students.
A mission trip is really a short-term Kingdom experience introducing and preparing students for long-term Kingdom living. Everything on a short-term mission trip—the purpose, serving others, being uncomfortable, taking risks, building community with the unlikely, and rubbing shoulders with the least—has the potential to transform students. But we don't always make the most of these trips. We don't always utilize them to grow and transform our student's lives.
We have an opportunity to craft a short-term mission trip experience to be a greenhouse for student development, but we need to be intentional in the building process. This tool will help you build and craft an intentional mission trip experience for your students, one that will give them the best chance for growing into strong and healthy Christ-followers.
Here's what's included in the Mission Trip Builder
ENVIRONMENT: Determine the best setting for your trip
PURPOSE: Identify the main goal for your trip
TRIP BUILDER: Create an intentional trip schedule
About the Author
Doug Franklin
Doug Franklin is the president of LeaderTreks, an innovative leadership development organization focusing on students and youth workers. Doug and his wife, Angie, live in West Chicago, Illinois. They don't have any kids, but they have 2 dogs that think they are children. Diesel and Penelope are Weimaraners  who never leave their side. Doug grew up in… Read More