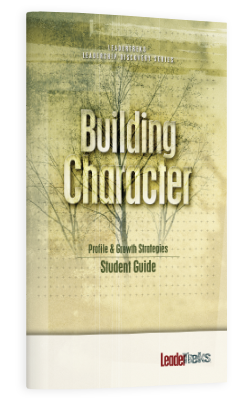 Building Character
Overall Topic: Assessing your character and readiness to change based on the fruit of the Spirit Part of the Self Leadership Track: Consider buying this assessment along with three others in the Self Leadership package – Learning Mode, Discovering Your Spiritual Gifts and Unique Abilities.
Distinctive Element:
In our years of experience in youth ministry, we've realized students first have to be ready to change before they can address shortcomings in their own character. This tool for encouraging godly character growth is based on the fruit of the Spirit (Galatians 5:22-23). In addition, three readiness for change factors are measured – attitude, awareness and accountability. The results will indicate if students are ready to address their character in light of the fruit of the Spirit, or if they need to continue to develop their readiness to change first.
Why a character assessment?
We believe character is the foundation of leadership. This assessment was created to help students see their character in light of God's standard, instead of by comparing themselves to others. Help your students take a step back and observe themselves from an objective standpoint. Each of the character qualities is thoroughly explained:
Basic definition
Importance
This dimension in Scripture
Tips for growth
The Building Character assessment raises awareness regarding the biblical standard of character, identifies areas of strengths and weaknesses, and helps students create a plan for personal improvement.
$4.95
In stock (can be backordered)