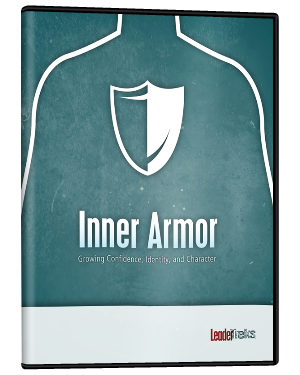 Inner Armor
Overall Topic: Helping junior high students realize the potential God sees in them.
Inner Armor teaches through the story of David and Goliath. David, rather than using the king's armor, fought and defeated Goliath single handedly because he knew he was God's man. This training inspires students to use their inner armor to defeat the giants in their own lives.
Number of Sessions: 3
Session Topics:
Inner Armor Comes From Knowing Your Identity
Inner Armor is Made of Character
Inner Armor Empowers Your Life
Distinctive Element: Inner Armor provides all the resources you need to lay a strong foundation of leadership for your students. Every session will teach principles while also including team building initiatives to help solidify the principles. LeaderTreks has discovered that by engaging students in the process of learning they are better able to apply leadership to their lives.
Each session includes:
Introduction – Summarizes the goals for the session
Going Public – An intriguing question to kick off your study that requires students to "go public" with their own personal experience with a certain truth
Getting Focused – Probing the topic
Growing Deeper – Scriptural study
Growing Together – Team-building initiative
Going Forward – Applying the principle to life
Summary – Recap of the session
We love this retreat. Our staff has been running it for the last 4 years at churches around the country with great reviews. If you're looking for a fun and interactive way to teach your students leadership in a retreat setting this is it.