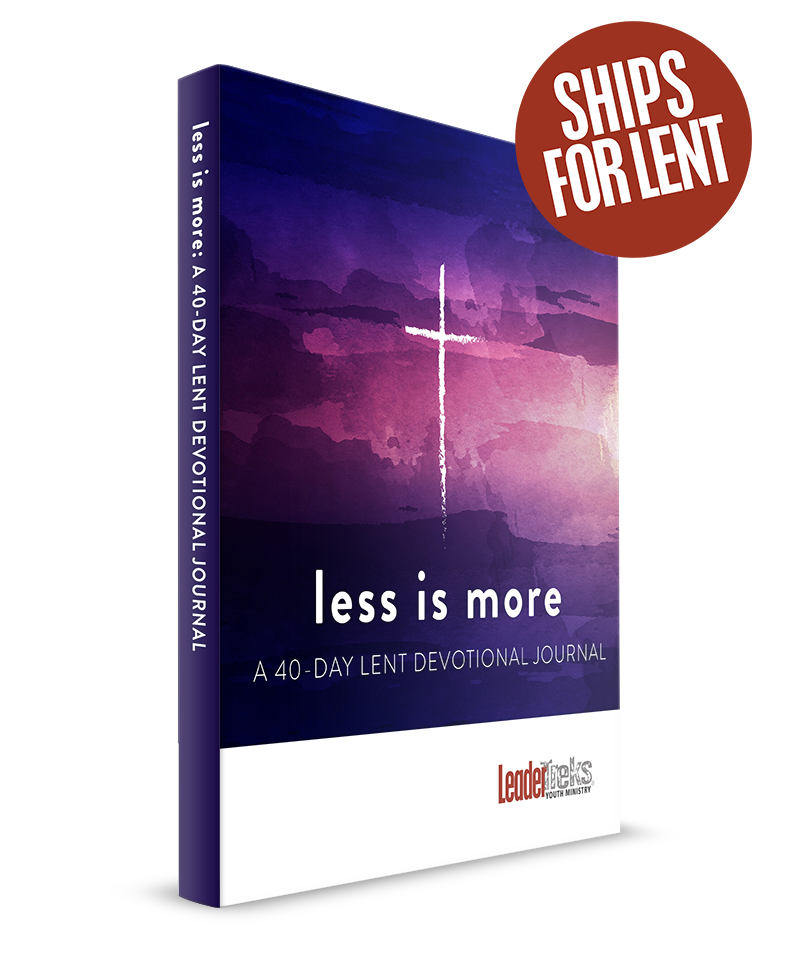 Less Is More: Lent Devotional Journal
40-Day Lent Devotional Journal
Equip students to grow their relationship with Christ through spiritual discipline.
---
Lent is a time to reflect on Christ's sacrifice and how we can follow his example in our own lives. Jesus sacrificed his will when he came to earth as a human, he sacrificed his comfort for the sake of his ministry, and he sacrificed his life on the cross. He gave up everything for us. When we focus on all that Jesus Christ has done, it makes sacrifice in our own lives easier. Our sacrifice is an act of obedience that always leads to spiritual growth. This Lent, you can experience growth through sacrifice and discover that less truly is more.
Less Is More is a 40-Day Lent Devotional Journal designed to help students grow deeper in their relationships with Christ as they journey from Ash Wednesday to Easter Sunday. It will introduce students to six spiritual disciplines to master as they experience the connection between sacrifice and spiritual growth. This journal is perfect for Lent, but students can use it any time of year!
Know Christ more through these 6 spiritual disciplines:
Prayer
Rest
Study
Fasting
Generosity
Praise
Each week you'll find:
Devotions and Bible studies to prepare your heart for Easter
Interactive hymn and worship experiences
Challenges that focus on growing through spiritual disciplines
Fasting Days to help you commemorate Christ's sacrifice during Lent
Family Activities to help you share your experience with loved ones
Less Is More is the perfect gift to prepare hearts to celebrate Christ's sacrifice this Easter.
---
Lent begins on Ash Wednesday, February 22, 2023. Order Today!
Orders placed by 12p (CT) ship same day.
$10.95
Bulk Pricing:

$

10.45 for 10 to 24.

$

9.95 for 25 or more.
In stock (can be backordered)
Download Sample

>>