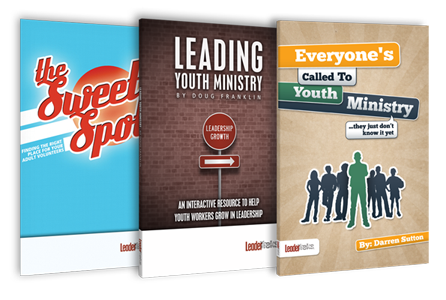 Youth Pastor Leadership Bundle
We've taken three of our most popular resources for youth worker leadership, bundled them together, and slashed the price!
---
Everyone's Called to Youth Ministry…They Just Don't Know It Yet
In this bold new look at recruiting and training quality adult staff and volunteers, Darren Sutton challenges our thinking on who is called to serve in the youth ministry. Hint: it's everyone. Darren's humor will draw you in, and his wisdom and experience in youth ministry will challenge your perspectives on who to recruit and how to train them. This book will help you look everywhere for adults who can passionately serve in youth ministry. After all, everyone's called to youth ministry…they just don't know it yet.
When adult volunteers come to our youth ministries we usually place them in a role based on our greatest need. But what would happen if we placed them by how they are wired to serve? They would be more effective, stay in ministry longer and some would even become full-time youth workers!
Being the leader of a youth ministry is complicated. You have to be able to lead people (students, parents, and adult volunteers), manage budgets, be a good communicator, and most importantly care for people's spiritual needs, which we all know can be messy. This job is overwhelming, but improving your leadership can help you dramatically. Have you ever considered that you need to grow yourself in order to grow your ministry?