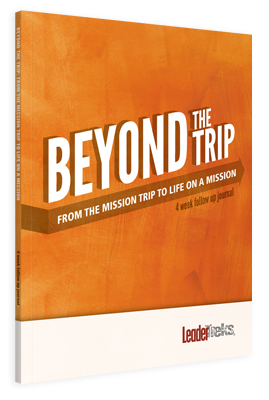 Beyond the Trip: Post Trip Journal
Overall topic: From the mission trip to life on a mission.
This book contains 4 weeks of:
Bible Studies
Challenges
Thought Provoking Experiences
Hard Questions
Insights into Service, Community, God's Story, and Connecting with God in your everyday life
One of the easiest things to do when you first get back from a mission trip is to look forward. There's nothing like your own bed, your cell phone, or a shower that doesn't require waiting in line. You really start to appreciate all the little things you took for granted before the trip, but it doesn't take long to forget everything you experienced when you were away. The worries you used to have creep back into your life and your cell phone seems outdated.
But it doesn't have to be that way! This book is designed to help you come home from a mission trip, but stay on the mission road. To not let your trip turn into a mere memory, but to use it as a lesson in living on a mission. A HUGE God invited you to be a part of a HUGE story, and that story lives long past the daily grind of your life back home. Take the mission Beyond the Trip. Use this journal to help live that adventure every day.
If you want to live differently when you go home, this journal is for you.