How To Teach Students To Study The Bible
It's not that students don't want to study the Bible, they just don't know how to study the Bible. Over the last 30 years of doing youth ministry, I have seen students get excited about studying the Bible. But they open up God's word, read a passage, and quickly realize they don't understand what it means. This is frustrating and they soon stop reading the Bible.
We can become so focused on having students read the Bible that we can forget to teach them how to study the Bible. There is a big difference between reading and studying God's word. When we understand these differences and teach them to the students, we can help bring clarity to their reading and studying.
The difference between reading God's word and studying God's word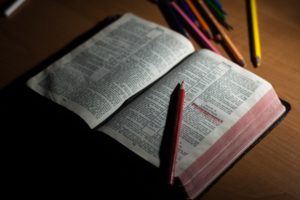 When we read God's word we need to read the whole narrative. We may read a whole book or a chapter. When we study God's word we study a series of verses that discuss one topic. I have noticed that students will try and study a whole chapter at a time over even a few chapters. The Bible can change discussion points so quickly and students easily get lost this way.
Instead, teach your students to read the Bible and also teach them how to study the Bible using a Bible study method.
Bible study methods are an excellent way to give students a repeatable method for study and is most effective when students have to discover the truth of God's word. This allows them to internalize God's truth and make it part of their daily life. Once a student has found a Bible study method that they like, they will have the confidence to use that method on any passage they want to study.
My personal favorite methods for students to study the bible
OPA

Observations
Principles
Application

The 5 P method

Purpose
Primary verse
Promises to claim
Problems
Practical Application

SPECK method

Sins to avoid
Promise to keep
Example to follow
Command and obey
Knowledge about God
The greatest part of Bible study methods is that students can come back to you and share what they have learned. When a student can teach a truth from God's word to someone else that means that they have learned it! This is the goal for students learning God's word and sharing with us what they have learned.
About the Author
Doug Franklin
Doug Franklin is the president of LeaderTreks, an innovative leadership development organization focusing on students and youth workers. Doug and his wife, Angie, live in West Chicago, Illinois. They don't have any kids, but they have 2 dogs that think they are children. Diesel and Penelope are Weimaraners  who never leave their side. Doug grew up in… Read More