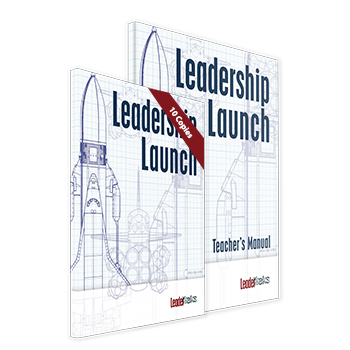 Leadership Launch Value Pack
The Leadership Launch Value Pack includes:
1 Teacher's Guide
10 Student Books
Overall Topic: Comprehensive student leadership development – principles and experience
– in a biblical context
Number of Lessons: 35, grouped together in 5 categories
Lesson Categories:
Leadership Basics
What Leaders Believe
How Leaders Lead
Who Leaders Are
What Leaders Do
The complete Table of Contents is available in the free download.
Distinctive Element: Leadership Launch includes 6 of the 7 leadership assessments developed by LeaderTreks specifically for high school students – spiritual gifts, building character, learning mode, unique abilities, leadership style, and leadership type. In addition, a core values assessment is also included. Completing these assessments enables your students to begin to discover how God has made them and what unique role He has for them in His Kingdom.
Who should use Leadership Launch?
While Leadership Launch was designed specifically for Christian schools, it can easily be used in a variety of settings:
In a classroom during a semester course
With existing leadership teams at school or church
As part of an existing weekly program
In a small group of key students
What is Leadership Launch about?
This is not your average textbook. It is one of the few textbooks written for students on the topic of leadership development. It teaches basic leadership principles that students will put into practice during the class period. It is highly interactive, and it is biblically based.
Leadership Launch sets the standard for student leadership development in a biblical context.
God's plan in building His Kingdom requires fully developed student leaders ready to assume real leadership roles in the present. Students are not merely the leaders of tomorrow; God wants to use them today. God uses leaders to change the world, and students can have a measurable impact on the Kingdom right now.
Leadership Launch prepares students to be leaders now. Each lesson offers opportunities to sharpen their leadership skills through team building initiatives, role playing, simulations, problem-solving, or assessments. Students will learn to lead by leading. Our formula is simple:
Leadership Principles + Leadership Experience = Transformational Leadership
What's included?
Set in a space flight context, each lesson includes nine sections: Preflight, Countdown, Ignition, Propulsion, Acceleration, Orbit, Reentry, Touchdown, and Debrief. More details on these sections are included in the free download.
In addition, the Teacher's Manual includes:
Know and do objectives
Teaching tips
Background information
Recommended websites
Question prompts
Further instructions