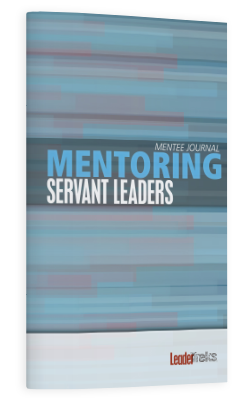 Mentoring Servant Leaders Mentee Journal
Overall Topic: Servant leadership principles that set the direction for a life-changing mentoring relationship.
Number of Sessions: 7
Session Topics:
Life Mapping
Focus Precedes Success
Intentional Communication
The Value of Risk Taking
Chart the Course
Navigating Obstacles
Distinctive Element: Mentoring Servant Leaders provides everything you need to sit down tomorrow with one of your students and begin a meaningful mentoring relationship. Both the Mentor Guide and Mentee Journal include a full-color Life Map, along with instructions on how to complete it. Completing the map together is critical to the success of the mentoring relationship. The mentor must understand what's going on in the mentee's life right now, what he or she will be facing over the next few months or year, and where the mentee wants to end up. The completed Life Map will be revisited in each session.
What is Mentoring Spiritual Leaders About?
Life is a journey, a road we all travel. But God intends for us to walk the road with other people who will come alongside of us, provide direction and wisdom, encourage us to stay on course, challenge us to push ourselves, and hold us accountable.
Mentoring Servant Leaders is designed to be used with little or no advance preparation on either person's part. We recommend that the mentor and mentee set a regular time and place to meet for about one hour.
The first and last session deal with the Life Map
The other 5 sessions each focus on a specific topic that has applications to life and helps mentees take the next steps on their journey in a way that honors God. These sessions require no preparation and are designed to be done during your time together. You will need to bring a Bible.
Each session in the Mentee Journal contains:
An introduction of the topic
A relevant Scripture passage to read together and questions to discuss
An opportunity to discover how the topic and biblical truth intersect with the mentee's life
A specific application of the topic to the mentee's life through life mapping
A prayer focus and a Scripture to memorize or meditate on
In addition, the corresponding Mentor Guide includes tips on developing a meaningful mentoring relationship and ideas on how to maximize your time together.
Mentoring Servant Leaders can be used between an adult and student, or older student and younger student.