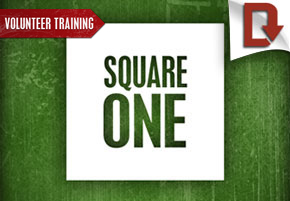 Square One Value Pack
A downloadable training for adult volunteers
---
Square One gives you the opportunity to talk to your adult volunteer about youth ministry basics that we often forget. Purpose, structure, strong teaching and building intentional relationships can make your youth ministry great. LeaderTreks has developed these short 30-45 minute training sessions for you to lead your adult volunteers through.
Overall Topic: Helping adult volunteers understand how youth ministry works.
Number of Sessions: 4 downloadable PDF sessions approximately 30-45 minutes each with a case study, discussion questions, Bible study and intentional application.
Session Topics:
Distinctive Element: These intentional 30-45 minute training sessions are designed to provide your volunteer staff with tangible skills that help them succeed in spiritually developing and leading students. LeaderTreks believes that the capacity of a youth ministry is measured by the amount of adult volunteers who have intentional relationships with students. For many reasons (lack of training, unclear expectations, and even fear) adult volunteer staff may struggle to be more than a chaperone in youth ministry. These short trainings are designed to help build confidence and skills into your volunteer staff, helping you accomplish the mission of your youth ministry.