Youth Group Christmas Games
Here at LeaderTreks, we play a lot of Christmas games, and that's why we think we're qualified to provide a list of great Youth Group Christmas Games.
Every year we deck the halls with over a dozen Christmas trees and fill many a cold, December afternoon with a fun Christmas game or a friendly Christmas competition. What can we say? Jesus' birth really does make it the happiest season of all, and we love getting to celebrate the season together as a staff.
And this year we want you (and your students!) to jump in and enjoy some of our go-to Christmas games.
Our guess is that your new favorite Youth Group Christmas Game is on this list. Take a look!
If you need evidence that such things really do happen, follow us on Instagram and get an inside look at all the Christmas happenings at LeaderTreks.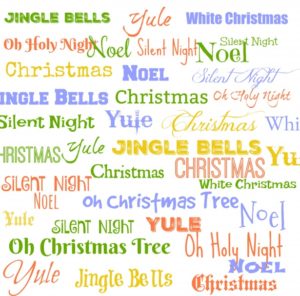 Christmas Game #1: Competitive Carols
For our team, this game has been the source of many "remember when…" stories.
Here's how it works: The Game Master is responsible for selecting 20-30 words from popular Christmas Carols. These words function as clues to the players and should vary in terms of difficulty. Upon hearing each clue, players must think of a Christmas Carol that includes that word and then be the first to stand up and sing at least eight words from the Carol, including the clue word. The first person to successfully sing eight words gets a point. Should a person be unsuccessful in their attempt, the runner up receives a chance to claim the carol. The individual with the highest number of points at the end is declared the winner, and we promise to sing their praises all year long.
Christmas Game #2: The Great Christmas Baking Show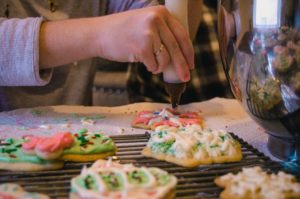 Every year we hold a baking competition in our office. This game has seen many evolutions and versions, but here's our favorite:
Teams of 2-3 individuals compete for the title of "The Great Christmas Baking Show Champion". Each team must create an original work of culinary art and introduce said work with a persuasive presentation of what makes their masterpiece worthy of the win. We place a dollar amount on what teams can spend, and then we provide the following guidelines for judging: 1) taste, 2) creativity, and 3) presentation. Teams know the guidelines, but we don't reveal the names of our guest judges until the day of the competition. This youth group Christmas game would make even Mary Berry proud! Don't believe us? Check out last year's entries.
Christmas Game #3: The Christmas Auction
Our office Christmas party for many years has included what we refer to as "The Christmas Auction". Everyone brings a surprise gift that would be to the liking of many of the individuals in our group of co-workers. At the start of the auction, we give everybody 100 pennies. Participants select gifts at random, gift-givers introduce the opening bid for their treasures, and the bidding war begins! The gift goes to the highest bidder (aka the person willing to part with the most pennies). At the very end, we give a special mystery prize to the gift-giver whose gift goes for the highest amount. We're completely "SOLD!" on this game.
Christmas Game #4: Christmas Survey Says
Our friends at DYM have a Family Feud-style game called Christmas Survey Says that is one of our most memorable Christmas games to date! Just watch last year's video. Like their website explains, 1000 people were surveyed about their answers to a variety of Christmas questions, and it's the task of your two teams to correctly guess the most popular answer to each survey question. Can your students name the most top ten most-popular Christmas movies? You'll find out.
Christmas Game #5: The Christmas Ornament Waltz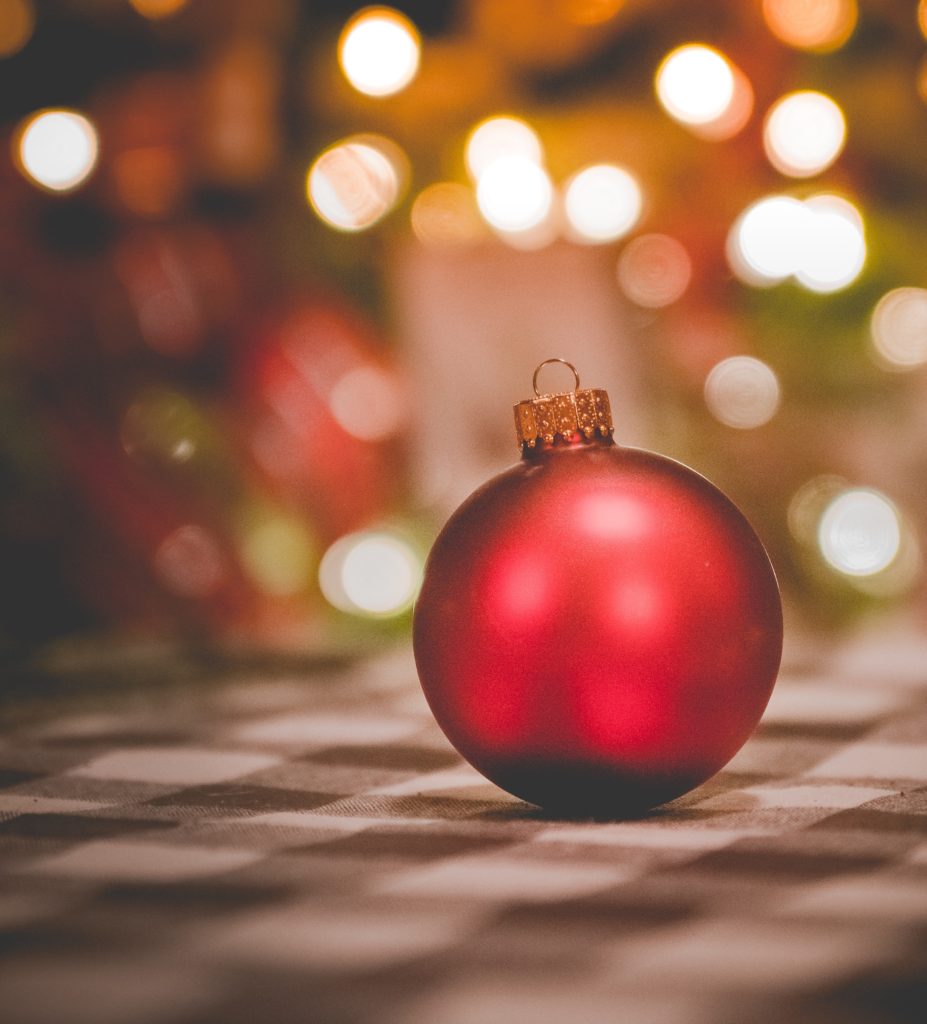 If Christmas trivia isn't your thing, don't worry; we've got you covered. Every year we feature several Christmas-themed games that don't require you to have a sleigh's worth of Christmas knowledge. Take our Christmas Ornament Waltz, for example. To play this game you'll need masking tape, paper plates, and about a dozen spherical Christmas tree ornaments (hooks removed). In a carpeted room, use masking tape on the floor to create a starting line and a finish line approximately 10-15 feet apart from one another. The goal of the game is to move a Christmas ornament from the starting line to the finish line without using any part of your body. You must either blow the ornament or use the paper plate as a fan to move the ornament across the finish line. Time each individual (or relay team) and give a prize to the fastest finisher!
Christmas Game #6: Have Yourself an M&M
Or how about this tasty alternative to Christmas Trivia? To play you'll need: bowls, post-its, paper, pens, and at least 10 unique varieties of M&M candies. Before you play, be sure to label each the bags of M&Ms with a number and create a Master Answer Key of which number goes with each M&M variety.
Pour each variety into a separate bowl, and label each bowl with a post-it using the same number. Give every player a piece of paper that includes spaces for 10 answers as well as a word bank that includes each of the varieties used (and maybe some fake or dummy answers that will only serve to confuse your students). Each player can only eat two M&Ms from each flavor, and they must write out their guesses for which variety is in which bowl. The player with the most correct guesses is the winner. Our favorite part about this youth group Christmas game? Eating the leftovers…
Christmas Game #7: Do You Read What I Read?
Here's a game that will give you an excuse to buy some good, old-fashioned newspapers. Be sure to look for one that features lots of Christmas stories or includes Christmas advertising.
In advance, cut out 20-30 pictures, deals, news stories, or headlines from various sections or advertisements in the paper. (You might find it helpful to write down what part of the paper you found each item in.) Then divide your students into teams of 3-4 individuals, and give an IDENTICAL NEWSPAPER to each group. Pull out your cutouts one-by-one, explain what item teams should be looking for, and challenge each team to be the first to find the same cutout in their own paper. The first team to find the item, cut it out, and present it to you gets a point, and the team with the most points at the end is the winner. You decide: will your students make the cut?
Christmas Game #8: The Twelve Drawings of Christmas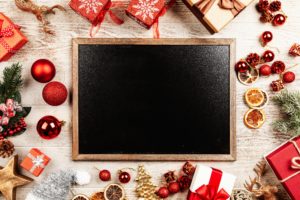 We're big Pictionary fans, and whether you've got a whiteboard or a tablet with Airplay capabilities, Christmas-themed Pictionary can be a huge win. Click the following link for a Christmas Pictionary word list. (Don't forget to include "wassail" on your word list!) To keep things fair, we always play with two teams and three rounds, followed by a tiebreaker round, if necessary.
Every round includes a set of 7-10 words and a time limit of 60 to 120 seconds. Both teams are challenged to draw (and guess!) from the same word list, so while Team A plays a round, we ask Team B to leave the room and vice versa. In each round, one team member draws and all other team members are allowed to guess. The team should try to guess as many clues as the time limit allows, and a final score is tallied and reported to both teams at the end of each round.
We hope that you enjoy these Youth Group Christmas Games as much as we do. Merry Christmas, everyone!
---
And because youth ministry is more than just fun and games, don't forget to download our 4 Free Christmas Lessons.

About the Author
Taryn Phiri
Taryn Phiri grew up in various states across the East Coast and the Midwest, but now she and her husband, Jerry, are happy to call Glendale Heights, IL their home. After studying International Development at Calvin College in Grand Rapids, MI, Taryn served at LeaderTreks for many years as a trip leader and training coordinator…. Read More