Delegate By Passion
Most delegation is driven by need or selfishness. We are usually only willing to let go of something when we are overwhelmed or when we don't want to do it.
What if delegation had nothing to do with us? What if delegation was all about the passion of others?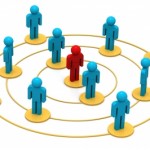 This mindset starts with us being willing to do anything the organization needs because if I delegate based on passion I will have to be willing to do what is left over. Then we profile each person who volunteers in the ministry asking ourselves, what will bring them to life? When I know their passions I can delegate leadership to them to will allow them to serve by their passion.
This kind of delegation will insure that volunteers will stay in the ministry. Your ministry will be developing new leaders and the more leaders, the more growth.
"Image courtesy By cooldesign/ FreeDigitalPhotos.net".
About the Author
Doug Franklin
Doug Franklin is the president of LeaderTreks, an innovative leadership development organization focusing on students and youth workers. Doug and his wife, Angie, live in West Chicago, Illinois. They don't have any kids, but they have 2 dogs that think they are children. Diesel and Penelope are Weimaraners  who never leave their side. Doug grew up in… Read More