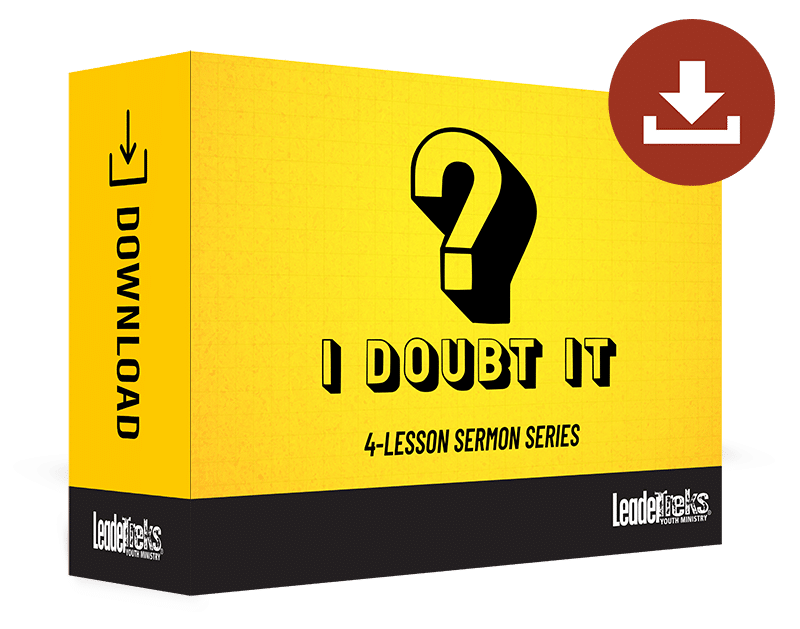 I Doubt It – Sermon Series
4-Lesson Sermon Series
I Doubt It. Doubt happens. It's present in every Christ-follower's life. In these four lessons, your students will learn about our proper response to doubt while addressing some hard questions from a biblical perspective.
LeaderTreks Sermon Series are easy-to-use, engaging messages that are geared toward junior high and high school students. These customizable, Bible-based sermon outlines are designed to equip everyone from volunteer leaders to experienced full-time youth workers with solid content and clear takeaways that bring the Bible to life. The included group discussion questions help you facilitate great discussions that lead to real-life application steps.
---
FOUR LESSONS:
He Said, She Said, God Said (Genesis 3:1–7; Jeremiah 1:1–9; Mark 9:24)
Priorities (Psalm 127:1–2; Luke 10:38–42)
Experiencing Grace (Romans 6:1–23)
What's It Worth? (Psalm 73:1–3, 12–13; Ephesians 1:3–14)
---
EVERYTHING YOU NEED IS INCLUDED IN YOUR DOWNLOAD:
4 Bible-based Sermon Outlines (PDF & Word)
PowerPoint presentations to support each lesson
Media & Graphics (presentation slides and social media images to promote/follow-up with students).
---