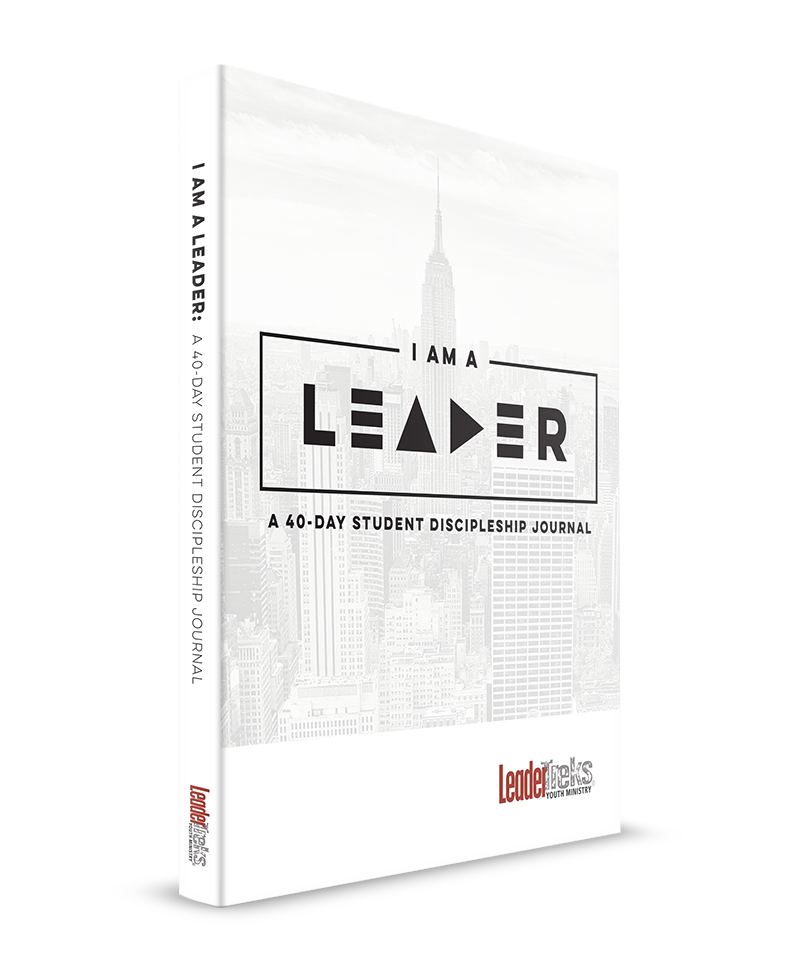 I Am A Leader – Student Journal
40-Day Student Discipleship Journal
Equip student leaders with 8 essential traits and skills of leadership
---
Use this resource for At-Home Ministry
I Am a Leader is a great journal for students to learn about godly leadership–even during quarantine. Each week of devotions will walk students through 8 important leadership principles. Students will learn Bible Study Methods to help them study the Bible on their own. They'll be inspired by daily challenges and hard questions. It even includes the Leadership Type and Team Roles Assessments designed specifically for students.
At the end of each week, you'll find a set of questions for mentors. Invite parents to use this resource to disciple their students at home, or equip your small group leaders with a ready-made set of discussion questions.
---
I Am a Leader is a 40-Day Student Discipleship Journal designed to teach students 8 essential traits and skills of leadership.
Leadership isn't a personality trait that students magically get—it doesn't happen overnight. Leadership is learned, tried, and experienced; and this book is designed to guide your students through that very process. In its pages, your students will be challenged to discover their God-given abilities and God-given mission. As they learn about essential traits and skills of leadership, they will be equipped to be servant-leaders who goes beyond personal preference to pursuing God's purpose.
I Am a Leader is a great resource for new student leaders and growing student leaders. Invite new student leaders to learn what godly leadership looks like, and challenge growing student leaders to apply these essential principles to their lives and their leadership.
Use I Am a Leader with an individual student or walk through this resource with a small group of students. Weekly Mentor questions are provided to help you debrief what your students are learning.
Each week you'll find:
Several days of Bible Studies (using Bible Study Methods)
Challenges
Thought-provoking experiences
Hard Questions
Marks of a Disciple (Life Application)
The 8 Essential Skills and Traits:
Leadership Is…: Defining what it is and who we are
Humility: Understanding our place in God's story
Confidence: Owning our gifts and God's mission
Vision: Discovering God's plan for our leadership
Risk-Taking: Living and leading with daily courage
Influence: Directing others to God with our lives
Grit: Digging deep to see God's purposes done
Mentoring: Finding a guide to show the way
Also Included:
---

Help your students move past the starting line of faith.
I Am a Leader is part of the "I Am" Series Bundle, a great set of resources designed to guide students deeper in their walks with Jesus.
---
$10.95
Bulk Pricing:

$

10.45 for 10 to 24.
Bulk Pricing:

$

9.95 for 25 or more.
In stock
Download Sample

>>