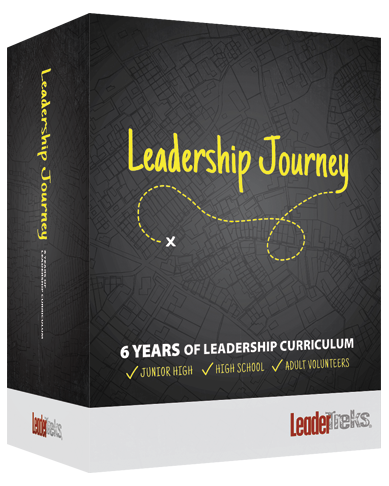 Leadership Journey Download
6 YEARS OF DOWNLOADABLE LEADERSHIP CURRICULUM
✓ Junior High   ✓ High School   ✓ Adult Volunteers
LeaderTreks drew from 20+ years of student leadership experience to bring you Leadership Journey.
Growing students into godly leaders happens in all sorts of ways: teams, mentoring relationships, projects, and small groups. It also happens in all sorts of places, from youth rooms to van rides to coffee shops.
Leadership Journey is a downloadable package to help you develop student leaders in the context that works best for your unique group. Each lesson can be done in a group or as individuals. The video training for your adult volunteers can be done at home or in your staff meetings. And while there is a suggested sequence, each Bible-based leadership lesson can stand alone in order to meet the most relevant needs of your students.
What's Included in this Download?
A Training Manual for mapping out your Student Leadership Plan

Student Leadership can happen in short-term projects, long-term teams, and one-one-one mentoring. Based on your the needs of your students, this Training Manual will help you choose (and map out) the best road for developing students as leaders in your ministry. It's filled with practical steps, best practices, and the reasons behind the methods.

10 Video Training sessions for Adult Volunteers

Strong adults are needed for developing students into leaders, so we've created 10 Video Training sessions led by Doug Franklin (President of LeaderTreks) to give you everything you need to coach your adults through this process.

12 Junior High leadership lessons

The Junior High years can be difficult, but are vital for leadership development. Leadership Journey for Junior High is divided into 3 sections designed to lay a strong foundation and introduce these new leaders to the balance between the skills and character of a leader.
1. Leadership Foundations   2. Who Leaders Are   3. What Leaders Do

24 High School leadership lessons

The High School lessons are also divided into 3 sections that dive deeper into the key principles of leadership, while also training young leaders to overcome obstacles.
1. Who Leaders Are   2. What Leaders Do   3. Leadership Landmines
---
Get Leadership Journey included in the $99 2019 Crazy Christmas Bundle.