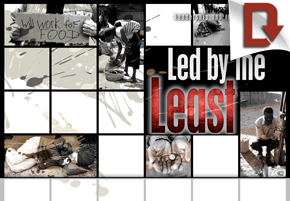 Led by the Least
This one's really about the leadership principles found in the least of the world. It takes a look at some of the world's biggest problems, and identifies people (in the Bible and in life) who spent their lives leading change in some of the world's darkest places.
Number of Lessons: 5
Lesson Topics:
The Least Lead with Unwavering Commitment
The Least Lead beyond Their Power
The Least Lead with Significant Sacrifice
The Least Lead with Selfless Courage
The Least Lead with Compelling Love
Our favorite part of this curriculum is that each lesson has an experiential activity that allows your students to practice every leadership principle. Whether it¥Ë_s writing a letter to a persecuted prisoner for Christ, or eating lunch with a bunch of strangers, each activity requires your students to live out some of the greatness found in people who have made a difference among least.
Each lesson in the Student Guide contains:
An example of the least in the Bible
An example of the least in life
Discussion questions
A scale to rate how we are personally living out each principle
An application section
A value statement activity
The corresponding Facilitator's Guide contains the following additional information:
Leader's intro
Objectives
Team activities
Additional resources and tips
We started this series by trying to identify the specific character traits of leaders who made a difference among the least in the world. What we found was that many of those leaders actually were the least. Even in the Bible it was a common theme. So this first book is about the leadership lessons we can learn from the people that the world considers the least.