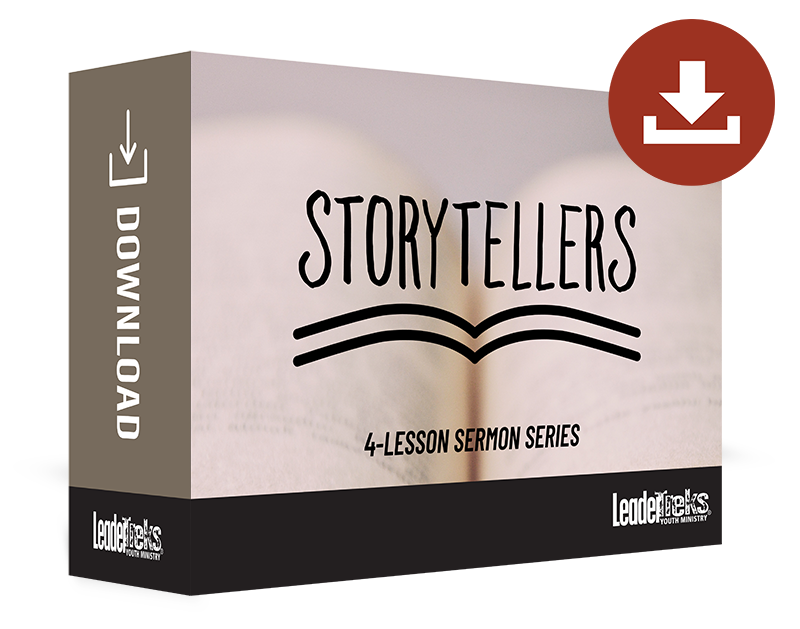 Storytellers – Sermon Series
4-Lesson Sermon Series
Storytellers. In these four lessons, your students will learn about their role in God's mission to pursue the whole world. We're called to share the good news of God's salvation, fueled by the joy and love produced by our own vibrant pursuit of God.
LeaderTreks Sermon Series are easy-to-use, engaging messages that are geared toward junior high and high school students. These customizable, Bible-based sermon outlines are designed to equip everyone from volunteer leaders to experienced full-time youth workers with solid content and clear takeaways that bring the Bible to life. The included group discussion questions help you facilitate great discussions that lead to real-life application steps.
---
FOUR LESSONS:
Rescue Mission (Matthew 18:10–14; 1 Timothy 2:1–7)
Our Heart's Desire (Romans 10:1–17)
Sharing is Caring (Matthew 28:18–20; Acts 4:1–20)
Completed Joy (1 John 1:1–2:6)
---
EVERYTHING YOU NEED IS INCLUDED IN YOUR DOWNLOAD:
4 Bible-based Sermon Outlines (PDF & Word)
PowerPoint presentations to support each lesson
Media & Graphics (presentation slides and social media images to promote/follow-up with students).
---