Reshaping Student Missions
Due to the recent pandemic, student mission trips are going to change for the first time in roughly 25 years. Not many things in church have lasted as long as the classic student mission trip has, but now things are going to need to be different.

Gone are the days of 150 students on one site at a time.
Gone are the mixing of church youth groups at one site, sharing paint brushes, tools, and water bottles.
Most likely gone are the days of renting a public-school building in the summertime and using it as a mission trip housing site.
So what are mission trips going to look like in 2021? What changes are going to need to be made to meet the demand for low-contact, highly-relational mission trips?
Here are the changes that I see coming:
1. one group per site
Moving forward mission sites will likely be one group per site.
Youth groups are going to need to come to mission sites as a family, having made sure no one comes with any symptoms of sickness. Then the group can act like a family, able to be close, share food, and do activities together.
This will also give parents confidence that their students will be safe. Additionally, trip leaders will be able to relax and not worry about who is in contact with who.
2. on-site work projects
It's probable that work projects will shift from off-site to on-site locations.
Before the group arrives, the work site should be disinfected. That way, when the group gets there, they can be confident things are clean. Since they are the only ones at the site, when they serve there, they already know that everything is clean.

It's the traveling around the site where the group can come in contact with others who could introduce an element to the group that is not wanted.
3. Self-contained or outdoor ministry sites
Ministry opportunities will also become more contained or move outdoors.
This summer on LeaderTreks mission trips, we have served at many food pantries. The food pantries have been willing to have us come when no one else is there and after they have disinfected. It is a self-contained ministry site.
Also this summer, LeaderTreks has been running mission trips that have been working at urban farms. Urban farms are a great place for students to learn about sustainable food sources, to social distance, and to serve in a way that is totally unexpected.
4. sidewalk vbs
VBS can be a very important element of a summer student mission trip because it is highly relational, and students really enjoy being with younger kids. But it's hard to know where those kids have been, and it's difficult to social distance from small children.
Sidewalk VBS is likely to provide a reshaped and safer alternative to traditional VBS programs.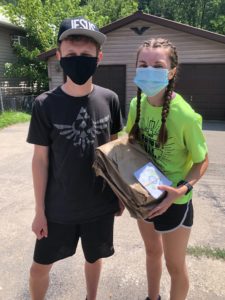 This VBS is done from the sidewalk while the children stay on the front porch. You can play games like Simon Says, you can sing songs, do skits, and pretty much do whatever you would normally do at a VBS.
There just is a good 20 feet of distance between the porch and the sidewalk which makes this wildly effective in times of a pandemic.
5. flexibility
Student mission trips have always required flexibility, but in this age of Covid, we are going to need a maximum amount of flexibility because things are going to change quickly.

The plans we make today may change for many reasons tomorrow, and we are going to need to be ready and prepared for change.
Also we are going to need to change our expectations. We may not be able to do all the activities in the service projects we've done in the past, and we're going to have to define a new level of success.
But I believe we can create mission trips that challenge students to grow their faith, develop a deeper dependency on Christ, and create more teamwork with each other.
In my mind mission trips are still the most powerful thing we can do with students. Let's just be flexible, and I believe we will see some great outcomes from our 2021 summer mission trips.
---

About the Author
Doug Franklin
Doug Franklin is the president of LeaderTreks, an innovative leadership development organization focusing on students and youth workers. Doug and his wife, Angie, live in West Chicago, Illinois. They don't have any kids, but they have 2 dogs that think they are children. Diesel and Penelope are Weimaraners  who never leave their side. Doug grew up in… Read More