Student Driven Mentoring – Free e-book
"A mentor can be the person who helps a hesitating student take the challenging journey from their head to their heart (a journey many Christians have not taken). A mentor can be the encouragement that holds a student up as they move through the refining fires that fortify their faith. A mentor will be the one who pushes students off the spiritual safety ledge teaching them how to swim in deep waters." – Student Driven Mentoring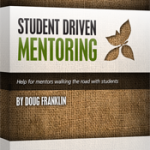 Mentors can be a powerful tool in the spiritual development of students. It isn't very hard to see the benefits that come from intentional mentoring relationships; but what can be difficult is knowing how to practically make mentoring a part of your ministry. What does an effective mentoring program look like? Where do you even start?
In Student Driven Mentoring, LeaderTreks proposes that mentoring relationships produce the most growth in students when they are given ownership of their growth and goals by letting it manifest from the journey they are personally on with Christ. This idea of student driven mentoring is not a formula or series of designated "right" steps. Mentoring is a very fluid and changing process because it's based on the relationship of two uniquely wired people leading two unique lives. There are some things that work for one mentoring relationship, that would not work for another.
Included in this resource are some examples of the best practices that LeaderTreks has seen and used, and it is our hope that one of these will connect with you and your ministry. Student Driven Mentoring can be used by anyone interested in mentoring. Whether you are a youth pastor just starting to learn about mentoring, or you are an adult who
has been involved in mentoring for years – this resource engages in a conversation about how we as leaders can best help challenge and grow students as they continue in their journey of faith.
In Student Driven Mentoring you will learn how to identify barriers to mentoring students and how to overcome them. You will learn what it means to have a "Mentoring Culture" and how you can create that in your ministry.  You will learn about students and what it means to let them drive a mentoring relationship.
Student Driven Mentoring will equip you to:
•    Create Deeper Accountability For Students
•    Build Trust Within Mentoring Relationships
•    Identify and Train Adult Mentors
•    Challenge Students
•    Help Students Own Their Growth
•    Identify Potential Student Leaders in Your Ministry

About the Author
Doug Franklin
Doug Franklin is the president of LeaderTreks, an innovative leadership development organization focusing on students and youth workers. Doug and his wife, Angie, live in West Chicago, Illinois. They don't have any kids, but they have 2 dogs that think they are children. Diesel and Penelope are Weimaraners  who never leave their side. Doug grew up in… Read More