The Best Graduation Gift: Mission
March Blog Contest: Honorable Mention
Graduation season is upon us and if your inbox is like mine, it is filled with the newest graduation gift, four-week curriculum, or party planning pack.
In my years of youth ministry, I feel like I've been a good, "plan-ahead" type of youth pastor, but graduation always seems to catch me by surprise. May rolls around, and I scramble to find the right gift, say the right things, and end the last night of youth group well.
I've tried many options, too: the senior-led youth group night, the senior celebration party, a graduation lunch with parents, and even the "Big Church" celebration. But the most impactful and long-lasting "graduation thing" I ever did wasn't one of these. It was a single conversation, and it happened long before my students even started their senior year.
"But the most impactful and long-lasting 'graduation thing' I ever did was a single conversation."
As part of our summer conference, I arranged a group discussion with all of my soon-to-be seniors. I shared 2 Peter 1:15 with them: "So I will work hard to make sure you always remember these things after I am gone." I explained that Peter's purpose was for the Gospel, and he wanted the churches to spread the Gospel long after his imminent death. And I told my seniors that I wanted them to make a commitment for the next year to leave a lasting impact on the youth group.
This conversation set the tone for our entire year. In the next school year, I had multiple seniors weekly pouring into underclassmen. I had others who would show up early on Sundays to help me plan and pray over the night. Several seniors served as junior high small group leaders on Wednesday nights, and almost every senior invited their friends (and even underclassmen!) to join us for youth group.
By the end of the school year, the graduation celebration still "came out of nowhere" for me. I can't remember what gift I gave them, but I do remember gathering my fifteen seniors into my office, re-reading 2 Peter 1:15, and saying with tears in my eyes, " Well done. Good job. I'm proud of you."
"The best gift we can give our graduating seniors is the gift to be on mission."
I'm not trying to minimize celebrating seniors. It's important that we give gifts and send them off well, but I think the best gift we can give our graduating seniors is the gift to be on mission. As they start their senior year, we should challenge and inspire them to make an impact for Jesus that long outlasts their time in our ministries.
So, as you prepare for a new senior class, circle a date or two on your summer calendar to cast a compelling vision that helps them see how they can have an impact that outlast them. Invite them to lead so that the underclassmen will be able to "remember the things [they] taught them, even when [they] are gone."
---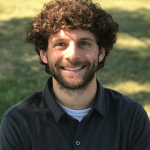 Kyle Isabelli has been in youth ministry for over ten years as a volunteer and youth pastor. He has been the Student Pastor at the Christian Church of Clarendon Hills in the heart of the Western Suburbs of Chicago for the past two years. Kyle has been married to his high school sweetheart, Maria, since 2011 and they have two amazing kids, Nora who is four and Max, who is two and a half. Kyle's main ministry passion is to introduce students to Jesus so that every student feels known, cared for, and loved. He also enjoys networking and connecting other youth pastors and youth leaders in unified prayer and mission. In his free time, Kyle actively roots for "his" Chicago Bulls and New York Yankees! 
About the Author
Guest Contributor
The LeaderTreks Blog is proud to share the hard-earned wisdom of student ministry leaders from many different backgrounds and professions. From time to time, we will feature guest blog posts from writers other than our regular contributors. We include these posts to provide additional perspectives and insight that we're sure will help develop you and your ministry… Read More