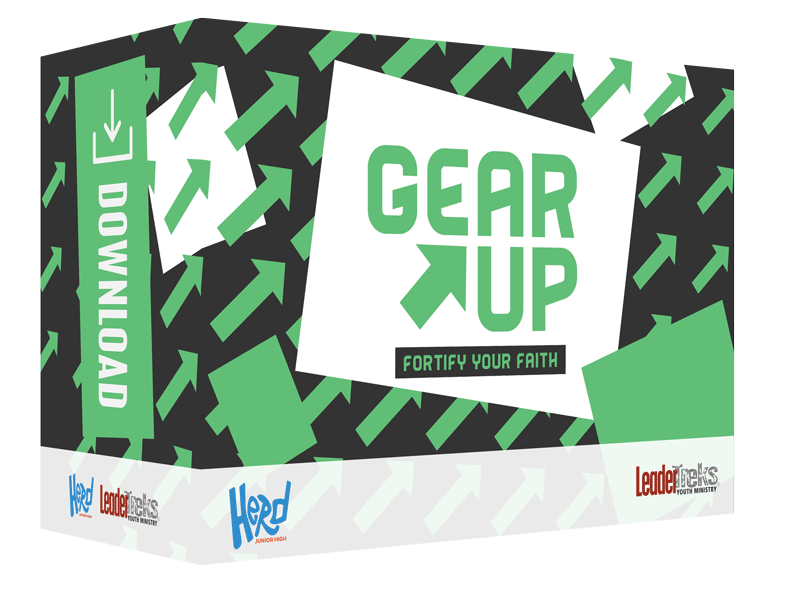 Gear Up – Junior High – One-Year Curriculum
One-year curriculum for junior high students that grows spiritual maturity by digging into what God has said through his Word.
48 completely downloadable and easy-to-use lessons. Includes Student Service Opportunity Ideas, Parent Resources, and Media.
---
What is Herd Junior High?
Junior high students are a unique brand of human, so they need a unique brand of curriculum to match. That's why Herd Junior High exists!
---
Why Gear Up?
Navigating junior high can be a difficult time, especially for students trying to follow Jesus. Gear Up is a year-long curriculum (48 lessons) that looks at common struggles of junior high students and addresses how to view those things through a biblical lens. By studying various themes and books of the Bible, students will see that their faith impacts the way they live, even now in junior high. Gear Up is designed to help students build a foundation of faith, equipping them to follow Jesus. Help students learn what it means to pursue Jesus and commit to a life with him.
---
What's Included?
48 Lessons (divided into monthly, 4-lesson series) (PDF and Word)
Student Service Opportunity Ideas
Parent Guides (with conversation starters)
Media and Graphics
Video Training
Memory Verses (ready to share on social media)
---
Scope and Sequence
GODLY RESOLVE
THE INTERSECTION OF FAITH AND RELATIONSHIPS
FOLLOWING JESUS THROUGH THE HARD TIMES
HOW JESUS SOLVES OUR BIGGEST PROBLEM
HOW TO GROW IN FAITH AND MOVE PAST FEAR
WHAT IT MEANS TO BE A CHRISTIAN
LESSONS IN SPIRITUAL MATURITY
HOW TO START STRONG AND COMMIT WHOLEHEARTEDLY
JESUS' TEACHING IN THE SERMON ON THE MOUNT
FINDING YOUR WAY HOME IN JESUS
HOW THANKFULNESS CHANGES EVERYTHING
THE DEEPER MEANING BEHIND YOUR FAVORITE CHRISTMAS CAROLS
---
Recommended Structure
In Gear Up, we've included one four-lesson series for each month of the calendar year. Depending on your schedule, you can start anywhere, skip a lesson, or base your sequence on the needs of your group.
Looking to learn more? Read our Statement of Faith.
---
Save when you bundle Gear Up and a HERO Membership
$298 $348
Unlock key features inside of Gear Up with your HERO Membership.
Access HERO's exclusive Student Discipleship Tracker inside of Youth Ministry Apps
Train your volunteers with over 18 unique video training sessions in the HERO Training Zone
Share lessons with your teachers and small group leaders using HERO's Online Teacher Management System