Senior Send Off Ideas: 3 Ways to Send Them Off Right
As graduation invitations begin to flood in, you might be reflecting on the impact your ministry has had on your transitioning seniors and wondering about senior send off ideas. How can your ministry send your seniors off right, this year and with future classes? They need more than just a graduation party. Here are a few other ways you can celebrate your seniors and prepare them for the next stage of life:
Senior Send Off Idea #1: Senior Sneak
Every year our ministry takes special time aside for our seniors. We help the students discover their unique leadership types and strengths, demonstrating how these gifts will influence their lives as they move into the adult world. As graduation approaches we provide extended times of reflection and prayer, and small group leaders pray over every senior.
Senior Send Off Idea #2: Senior Seminar
A small group (or groups) of seniors meets together monthly throughout the summer to discuss big questions they might not get to ask in other settings. They dive into a range of pressing topics, from theological issues to real life situations. This year we used Doug Franklin's book Moving On, which has been a fantastic conversation-starter for topics of mission and calling. Ultimately, this small group setting has been a great way to engage our seniors and listen to them discuss and discover. 
Senior Send Off Idea #3: Senior Salute
In early May—before the flood of graduations and parties—we dedicate a Saturday morning to honoring the seniors and their families. We provide a continental breakfast accompanied by a slide show featuring pictures of them throughout their time in our ministry, from middle school to high school. We enjoy a lot of laughs, but this allows us to show and talk about how they have matured over the years.
Every senior is honored and given a Bible with a verse written inside as a specific prayer of challenge and blessing. Their parents write and share a letter expressing how proud they are of their seniors and how much they love them. (We send an email to parents well in advance so they have plenty of time to craft this important letter.) Finally, we invite our college ministry leaders to be present at this event so they can officially receive and welcome the graduates into the college ministry at our church. It is a wonderful day filled with beautiful memories and a healthy sense of transition.
Together, these events have given our seniors a unique sense of purpose and identity in our ministry. May we celebrate our seniors well and honor the memory-making and legacy-leaving moments we were given together.
Trevor DeVore is Pastor of Emerging Generations at Southern Gables Church in Littleton, Colorado.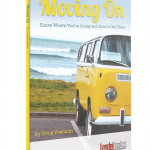 Looking for the perfect senior gift to help your graduates map out the next steps for their future? Check out Moving On, by Doug Franklin.
About the Author
Guest Contributor
The LeaderTreks Blog is proud to share the hard-earned wisdom of student ministry leaders from many different backgrounds and professions. From time to time, we will feature guest blog posts from writers other than our regular contributors. We include these posts to provide additional perspectives and insight that we're sure will help develop you and your ministry… Read More