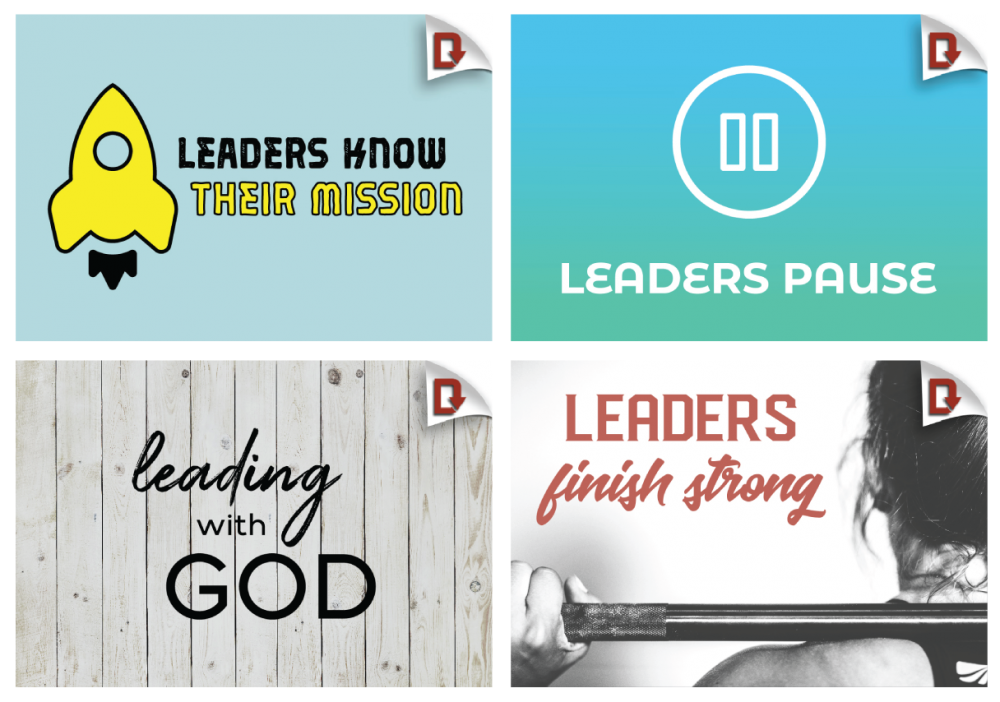 Best of 2018 Leadership Lessons
A set of downloadable, ready to use, leadership lessons on specific leadership principles
Help students discover the path of a godly leader
---
The Best of 2018 Leadership Lessons is a set of downloadable, ready to use, leadership lessons on four specific leadership principles.
This bundle features:
---
Each of the four Leadership Lessons include:
Facilitator Guide (Word and PDF)
Student Handout (Word and PDF)
Biblical examples
Debrief and discussion questions
Experiential activity
Practical Life Application
---
Leaders Know Their Mission: Helping students discover and lead from a God-given mission
As Christ-followers, we are on the mission road, following Jesus as closely as we can. But what does that look like in leadership? How do we lead others with this mission in mind, and how do we make it personal? In this lesson, students will learn how to lead by example, practice finding their own life mission, and learn how to help others find and lean into living out their own life mission.
In this leadership lesson, students will:
Study the biblical example of King Josiah, a young leader who had a mission to lead a country back to God
Take a look at Gary Haugen's life mission and leadership lived out through IJM
Work through a Mission Finder assessment
Leaders Pause: Helping students learn the value of pausing to connect with God
Great leaders know when and how to pause. In a world that competes for our attention, pausing keeps leaders from making rash decisions, running over people, and losing their way. It also helps them connect with God and stay on his mission. The Bible is filled with examples of people who knew how to take time to refocus, seek God, and be thankful. In this lesson, students will study how Jesus paused on a mountainside, take a second look at the distractions that keep them busier than ever, and learn several practical ways to pause in their leadership.
In this leadership lesson, students will:
Study Jesus' example of strengthening his leadership by pausing to connect with his Father
Look at how a tech company's app shows the value of stopping to pause
Learn and practice a few ways to pause that will help them grow in their relationship with God
Leading With God: Helping students develop into leaders whose actions flow from renewed hearts
When talking about leadership in God's Kingdom, it's especially easy for students to think it's their job to do things for God. That kind of reasoning fits neatly into how the rest of their lives are organized—chores for parents, homework for teachers, practice for coaches, entertainment for "me," etc. But God doesn't need them to do Kingdom work for him, he wants to do it with them. This lesson will show how that simple change in perspective can change the way they relate to God. Lastly, a short activity will challenge students to examine their schedule and live their entire lives with God.
In this leadership lesson, students will:
Study Jesus' invitation to minister with him (not for him) in Matthew 28
Look at how sawdust in a car engine shows how living life with God is more sustainable and enjoyable than striving for him
Examine their schedules in an activity that challenges them to live their entire lives for God
Leaders Finish Strong: Helping students learn how follow-through leads to finishing strong
In this lesson, students will learn what it means to be a leader who sets the tone for their team by finishing strong. By studying Paul's words on finishing the course, looking at people who made the end of their race matter, and experiencing firsthand what it's like to finish strong together, students will walk away understanding the importance of finishing strong and how to do it in their own lives.
In this leadership lesson, students will:
Study Paul's example of dedication and commitment to God's mission
Look at how two Olympians developed a strategy that helped them reach their gold medal goal
Learn how working together and following through can help a team finish strong
---
Find additional Leadership Lessons in Leadership Journey.